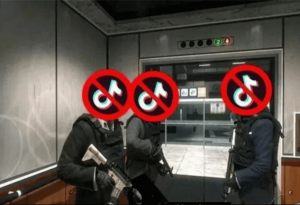 Comrade Trump made a statement the other day that was so outlandishly Communistic and Socialistic that neither party wants to talk about it at all. This pretty much sums up the state of the Democratic and Republican parties completely. Let me explain.
Apparently, Comrade Trump is angry at TikTok and there is speculation it is because one of its prominent members makes fun of Comrade Trump on a regular basis or that apparently users duped his campaign into overstating attendance at a rally. In any case, the fact that Comrade Trump is angry is indisputable. He is trying to force the Chinese owners of TikTok, ByteDance, to sell their U.S. operations to a company based in this country or he threatens to ban their services entirely, which is only the first part of the insanity.
If ByteDance manages to sell TikTok, Comrade Trump thinks that a significant percentage of the sale should be paid directly into the United States Treasury. His reasoning being that U.S. citizens by the tens of millions use TikTok and contribute to its profits and therefore its eventual sale price. Comrade Trump uses the wholly misguided National Emergencies Act to suggest almost anything he does is in the name of national security.
Here is where it gets, to use a term favorited by said president, pathetic. What Comrade Trump is suggesting is nothing short of communism. The all-powerful state can force a private company to sell its assets and take a portion of the price paid for that sale.
If Bernie Sanders was making this suggestion his many Socialist and Democratic supporters would cheer loudly and praise him for funneling corporate profits to the people upon whose backs those profits were reportedly earned. CNN would be trying to justify the madness in some sort of Constitutional twisting that makes a pretzel look like an arrow.
Likewise, if Sanders were to make said statement, my Republican, supposed business loving, friends would likely have some sort of apoplectic fit their screaming, ranting, and shouting would be so virulent as to cause dogs to flee and seek shelter under the bed. Fox news would be declaring the end of the world and you'd see pictures of the Constitution burning on their sensationalistic newscasts.
None of this is, of course, happening. Comrade Trump pretends to be a Republican so those aligned with him dare not express the outrage his turn to communism fully deserves. Meanwhile, those who support such misguided policies cannot, under any circumstances, suggest that he has at least one aim in alignment with their own goals.
Welcome to our failing country. Enjoy the comedy.
Tom Liberman