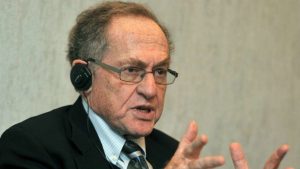 Esteemed lawyer Alan Dershowitz seems to be of the opinion the Supreme Court sent a message to Donald Trump that he cannot count on the court. The full quote is: The three justices that President Trump appointed, his three justices, voted not to hear the case. I think it's a message to him and his team that you can't count on the judiciary, you can't count on the courts.
I cannot begin to tell you how this quote by Alan Dershowitz displays his utter disregard for the law and for the courts, a sentiment he mouths in ever-growing examples. Sorry, Alan Dershowitz, President Trump can count on the courts. The courts uphold the law not your personal vendetta, that's the entire point of the legal system. A fact that Alan Dershowitz seems to have either forgotten or completely abandoned in his towering arrogance.
The courts are not here to do favors for those who appoint judges and, sadly, the entire political spectrum of the United States seems to have forgotten that vitally important fact along with Alan Dershowitz. It is has led to what I consider a Supreme Court that is wholly invalid and without legal standing.
Now, I've had my troubles with decisions of the Supreme Court all the way down to defining a tomato as a vegetable but my understanding of the court differs wildly from that of Alan Dershowitz. In rejecting the case in question, they were not sending a message, they were upholding the law, their job.
I'm reminded of my novel, yes fair readers, self-promotion time, The Sword of Water. In it, Jon Gray is explaining the nature of trust to Tenebrous the Shade. Jon trusts Tenebrous to do what is in his self-interest even if that is not in Jon's interest. That is the point of the courts. They are not there to do the bidding of one party, one president, one befuddled and aging jurist. The entire court system can be counted on to uphold the law. That's what this entire episode proves.
Jon relies on knowing how Tenebrous will react to a situation, and this allows Jon to further his own goals, even if they are diametrically opposed to that of the shade. We must have that same opinion of the Supreme Court and the courts in general. That is trust, that is counting on something, that is reliability.
No, Alan Dershowitz, the Trump administration and lawmakers can count on the courts, that's the lesson to be learned from this sorry episode of United States history.
Tom Liberman