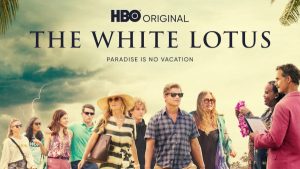 What is White Lotus?
White Lotus is a recently released mini-series which received acclaim from both critics and audience. It tells the tale of a group of travelers at a luxury resort and expands on their personal problems while hinting at a murder mystery.
Really Good for While
The thing about White Lotus is that it's really quite good in almost every respect. It's not a situation like The Nevers or Miss Scarlet. Those shows, while many people certainly enjoy them greatly, I found to be almost without redeeming qualities.
In White Lotus the writing is well-paced and interesting. The characters slowly reveal themselves to us through dialog and events rather than obtrusive exposition. In particular the Quinn character story arc spoke to me in a number of ways.
Steve Zahn as Quinn's father annoyed me to no end but slowly grew into an interesting and fully three-dimensional character. The acting is largely excellent. I thought Jake Lacy as the annoying husband to the confused and unhappy Alexandra Daddario particularly effective. Connie Britton peeled away the crazy layers of her character with wild-eyed abandon.
The sets were lovely, the cinematography well done. Quinn going outside to sleep on the beach as the sun set and whales breeched is an image I won't soon forget.
Why it Doesn't Succeed Fully
You might be wondering at this point as to why I found White Lotus disappointing if all I can manage to do is heap praise upon it.
It's the ending. Perhaps I should say some of the endings. I don't mind a story that doesn't tie everything up in a nice little bow, in fact I general prefer a little ambiguity. I also don't mind an ending that isn't happy. That's real life and it happens.
The fate of Rachel in a golden prison with Shane is not my problem. Nor is the conclusion of the Nicole story with her joyously sprinkling the ashes of her dead mother. Those two I liked, it's everyone else's ending that disappointed.
I really don't know what to make of the Paula and Olivia ending. What happened? Are they still friends? Did they learn anything. What about poor Kai? Manipulated by Paula to salvage her own conscious at being of color but living in luxury.
I worry that Quinn won't even be able to make it back from the airport to the resort with no phone and no money. How will he survive? His parents certainly won't let the plane leave without Quinn on board.
What about Belinda? What will she do with the wad of cash? Will Nicole run the business opportunity by her team and change her mind?
Armand's story seemed to simply justify the premise of the opening scene where we know someone died. It didn't seem organic to me.
In the End
Too many of the endings just weren't endings at all. I found myself unsatisfied. I'm certainly not saying White Lotus is bad, it's quite good really and I very much enjoyed watching it. I'm looking forward to a second season reportedly in the works with new guests.
I guess my point here is that endings are really important. If you can't find a good ending then every wonderful thing leading to that point is forgotten. White Lotus was close to wonderful and I'd recommend it even though the ending left me disappointed.
Tom Liberman