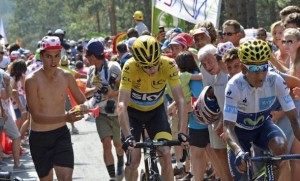 According to Chris Froome the responsible party is our favorite whipping boy, "The Press".
First the story. The Tour de France has been plagued by Performance Enhancing Drug scandals almost since it was first run back in 1903. Things got very ugly when Lance Armstrong admitted to doping during his record breaking seven victories. There are members of the public are skeptical of anyone who performs well in the annual race and the 2013 winner, Chris Froome, was doused with urine by a fan during the 14th stage of this year's race.
My issue is that Froome laid blame squarely where it did not belong. Here's the quote that so aroused my ire:
I certainly don't blame the public for this, it's certainly a minority of people out there ruining it for everybody else … I would blame some of the reporting on the race, it's very irresponsible.
Really? You don't blame the person who filled a cup with urine, waited for your pass, screamed "dope", and threw it on you? That person is apparently blameless? It was the press who somehow forced the spectator to act that way? What utter nonsense.
The press reports that riders in the Tour de France might be doping and that's irresponsible? They suggest that Froome, a former winner, might be cheating and that's completely out of the question?
I'm not saying those who write sensationalist stories attempting to get people riled up rather than reporting facts are somehow good people. It's despicable to accuse someone of cheating when you don't have reasonable evidence or shady circumstances to suggest as much. I'm just saying that, beyond any doubt, the person responsible for throwing the urine is the person who threw the urine! I mean, it doesn't require an advanced degree is Blameology.
This idea of blaming the press or some organization for an individual's behavior is rampant. We blame ISIS for domestic terror attacks. We blame racist organizations for mass shootings. We do this because they are convenient targets. The press is such an easy target in this case and often seems to be so.
I find it most useful to blame the person who acts in an egregious manner. I'm of the opinion that assigning blame appropriately is an extremely important part of finding solution. If we blame those who are not responsible then the chances of arriving at successful outcome is all but impossible.
I think the goal should be to solve problems, not lay blame on those who we perceive to be enemies. I'm naive that way.
Tom Liberman
Sword and Sorcery fantasy with a Libertarian Ideology
Current Release: The Black Sphere
Next Release: The Girl in Glass I: Apparition – Release date: late August 2015