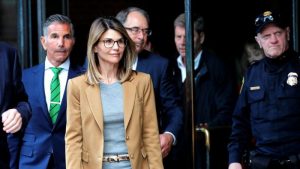 Do you want to be Lori Loughlin and fight for a long time or Felicity Huffman and take your punishment up front and move on? Sometimes in life you have a choice between suffering today or delaying the pain until later in the hopes of avoiding it altogether. It's an interesting decision from a Game Theory perspective and I like to examine it today.
In the case of Covid-19, the United States trod the Lori Loughlin path of delaying the pain in the hopes it would go away. It didn't and now we're paying the price. Meanwhile countries like Japan and South Korea went the Felicity Huffman rout and took the punishment early, avoiding more disastrous consequences later.
Is one choice better than the other? If you choose to avoid punishment today there is always the chance the pain will never come. Perhaps Lori Loughlin will have the charges against her dismissed or she will not face any prison time. Felicity Huffman, on the other hand, pled guilty and served a few weeks in a minimum-security prison. She has that on her record forever but she is basically living her best life now and has been for a while.
There are arguments both ways. It's sort of like staying in place when a hurricane is forecast for your region. If you don't leave and the disaster doesn't come, you've saved a lot of time and effort. However, if it does come, you might well die, be horribly injured, lose family members, or otherwise suffer for a long period of time.
In this case, President Trump and many of his political allies decided Covid-19 wasn't that big a risk. That it probably wouldn't get bad and we shouldn't risk economic pain today for the uncertain forecasts of its dire consequences tomorrow. Some of them maintain that position even today despite the dying going on all over the country.
To be honest, we still face that very same decision right now. We are currently avoiding public gatherings but people are still getting sick and dying. The question we cannot answer is how many might have died; how bad would the economic impact be if the disease spread more quickly and widely throughout the United States? How bad might it get if we give up on social distancing too early?
It's not unreasonable to conclude that had people continued to congregate normally the eventual economic impact could have been far worse. If huge numbers of people got sick then everyone would isolate without prompting from the government, merely out of self-preservation. This would hurt the economy far worse than we are currently experiencing.
Of course, it might not have been that bad. That's the risk you take when you decide to avoid pain today in hopes it won't arrive, and be significantly worse, tomorrow. It's the decision you face right now in regards to social distancing. Accept the suffering today? Put it off and hope it won't be so bad tomorrow?
Perhaps Lori Loughlin and Felicity Huffman might give us cogent answers to these questions. As for me, I think it's better to take the consequences today rather than suffer later, you may disagree.
Tom Liberman