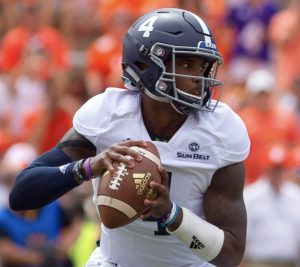 A young man named Shai Werts who plays football for Georgia Southern was arrested for cocaine possession the other day and the entire thing gives me yet another chance to rant against the so-called War on Drugs. The entire episode illustrates how police use the War on Drugs to persecute those they don't like, which, I'm sure you'll find shocking, is most often minorities.
Here's what happened. Werts was supposedly speeding on a secluded road and an officer tried to pull him over. Werts was uncomfortable in the situation, called 911, and drove to a more populated location followed by police. When he did pull over, he explained why he didn't stop immediately.
Our finest officers then scraped bird shit off his car hood, put it in their field kits, claimed it tested positive as cocaine, and arrested him. Werts told the officers it was bird shit but they weren't going to put up with that excuse. Later, when subjected to a real laboratory test, the substance turned out not to be cocaine, what a surprise.
Here's what really happened. A young black man was rightly afraid for his life when the police pulled him over for speeding. That alone is sad testament to the reality in which we live. He was also likely afraid they'd plant drugs on him because that is also a reality of the world. So, he forced the officers to follow him to a less secluded location. That pissed off the officers. They decided they wanted to punish him. They found the flimsiest of excuses to harass him. Did the bird shit actually test positive in the field kit? Who knows, field kits and drug sniffing dogs are notoriously unreliable.
This situation was simply officers abusing their authority to harass someone who did something they didn't like. If you're a minority living in this country, you aren't at all surprised by this. If you're not a minority you probably don't even believe it happens, you're mad at me, and will write nasty comments about how I hate police.
This is the War on Drugs. An excuse to harass citizens, steal from them, put them in prison, and be a general bully. This behavior has effectively alienated law enforcement from the communities they are trying to serve. I've written before how this is a tragic situation both for citizens and police so I won't reiterate.
What does it say when police scrape bird shit off the hood of a car in order to harass people they don't like? What does it say that we put up with drug detecting field kits that mistake bird shit for cocaine, that is if we don't just assume the officers were lying?
Close your eyes to the travesty that is the War on Drugs and reap the consequences.
Tom Liberman