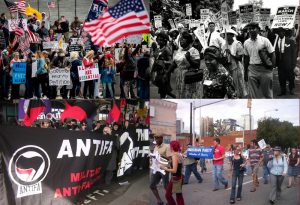 When you march for Freedom you are not marching just for your own freedom, freedom is for everyone. If you believe the government has no right to prevent you from getting your hair cut, if you believe the government has no right to kneel on your neck, if you believe the government has no right to send heavily-armed law enforcement officers to disperse you from assembling; well, you're a Libertarian even if you don't know it. Freedom is for everyone.
It's important to realize this point because so many people out there marching for freedom see others marching for the same thing not as allies but as enemies. I wrote not long ago how Our Freedom is at stake, not your freedom and not my freedom. Freedom is for everyone.
When you stand up for freedom you are standing up for the people with whom you disagree. When you use your constitutionally guaranteed rights to refuse to be searched without a warrant, to practice your religion without restriction, to bear arms, to speak your mind in a blog; you are standing up for all the people who do the same thing even if not for the same cause.
I'm certain many people disagree with my Libertarian inspired, broad interpretation of freedom that includes open borders and the cessation of all economic sanctions but I hope to convince you when I stand up for my freedom, I do it with the full realization that I'm standing up for yours as well. When I write about issues important to me and demand freedom for them; I fully understand that I'm demanding freedom for the issues important to you. Freedom is for everyone.
You have the right to assemble. You have the right to speak your mind. You have the right to resist jackbooted thugs sent by officials in power to take away your freedom and you have the right to do it violently if threatened with violence. I condemn violence of all kinds but the most dangerous is that sponsored by the state and carried out by law-enforcement and military personnel. Many of whom, by the way, are strong proponents of freedom. They should be on the side of freedom and I encourage you who are so inclined to disobey unlawful orders, peacefully hopefully, but violently if necessary.
Freedom, my friends of all colors, all political ideologies, all religions, all genders, all sexual orientations, all ages, all ethnicities. Freedom is for all of us together, citizens, soldiers, law-enforcement officers, and all the rest. Together.
Brave citizens taught the world what freedom meant back in 1776. Let us teach the world what it means today.
Tom Liberman