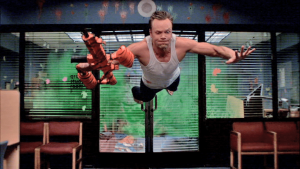 I was browsing through some of the glorious paintball clips of the television show Community on YouTube when I came across this video. It reminded me one of the show's stars, Chevy Chase, hated being on the show and most of the cast and creator were not particular fond of him.
If Chase hated being on the show and most of the people he worked with didn't like him, how was the show so hysterically funny? How was Chase so good? How did the other actors create comedy gold in scenes with him? How did the show runner produce hilarious episodes one after the other?
In team sports there is something called chemistry. This is how the players and coaches interact with one another. It is universally considered a benefit when everyone gets along. When the culture of the team is good. But perhaps the reality is different. At least that's what I'm thinking. Maybe liking each other isn't all that important to success. Maybe working with talented people you hate can be and is far more of an indicator of success than so-called team chemistry.
As an extreme example; it's pretty clear no matter how much the other players on the St. Louis Cardinals might like me as a person, I would be an anchor on the team, what with me striking out nine out of ten plate appearance (ok, 99 out of 100).
Is it pleasant to be around those we like? To spend time in the company of those we enjoy? Yes. Why, yes, it is. I enjoy life more when I'm surrounded by people whose company I enjoy. The question becomes, is it an element of success? It seems like it should be an obvious answer. If the team, be it sports or business, likes one another they should be happier and thus more willing to perform excellently. Yet, is it?
Does happiness engender success? These are the question managers must ask themselves while building their teams. Is this new person we're adding going to improve the culture? Is this new person we're adding going to improve our chances of succeeding at the project?
Who is more important? Douchebag super-talent or sweet person average talent?
Obviously we'd love both, but what I'm asking is which takes priority. You want the job done. You are the manager. What's your choice? The more I think about it, the more I come to the conclusion that success is more related to talent than chemistry. Much more. What do you think?
The poll question is a bit black and white and I understand there are nuances.

Loading ...
Tom Liberman
Sword and Sorcery fantasy with a Libertarian Ideology
Current Release: The Gray Horn
April 2017 Release: For the Gray