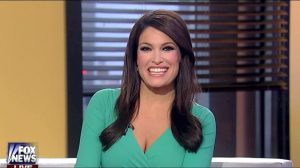 A Fox News personality named Kimberly Guilfoyle is actively admitting she is interviewing to get the job of White House Press Secretary, currently held by Sean Spicer. I suppose I'll get labeled a Liberal Shill or a Snowflake but this public lobbying for someone else's job seems pretty gross to me. It's just a lack of decency.
I mean, I get it, people get fired. Someone takes that job. That's part of the business and political world. A business has to interview for a position they know is going to be vacant, but everywhere I've been it was done quietly. Other people in the office weren't told about it, and certainly the person interviewing for the promotion didn't go on Facebook and tell all their friends.
I'm not in the White House making decisions about who to hire for any position. I'm not hiring or firing anyone. My opinion is pretty much worthless in all of this. Still, if it was me, I'd certainly eliminate Guilfoyle as a candidate the moment I saw the interview. If she can't be discreet enough to keep the talks quiet, then why would I want her working for me?
I suspect, as usual, thoughts about her behavior will be split along political lines, and that's a shame. All too often we are willing to put up with bad behavior from someone who espouses the same political philosophy as us, while eagerly denouncing those who support the opposite side of the aisle.
When it comes to that sort of situation, I too feel the pressure. More than once, friends of mine who largely agree with my political point of view have spouted off inanities on their Social Media accounts. I always hesitate before saying something. On the occasions I do chastise an ally, I risk their friendship. I try to put my criticisms in a positive way. That doesn't always work. I'm an abrasive fellow, there is no denying it. I'm not the most popular kid in school.
The problem is that the only people Guilfoyle is going to listen to are those who largely agree with her politics. She certainly won't let my opinion influence her. It is only if someone with whom she largely agrees and respects sits her down and tells her how deplorable is her behavior, that she will mollify it.
That's why I think it's imperative to be critical of those with whom you largely agree when you see them doing something wrong. I think that's what is largely missing in our current political climate. The ability to be critical of those with whom we find like cause.
And, of course, don't lobby publicly for someone else's job.
Tom Liberman