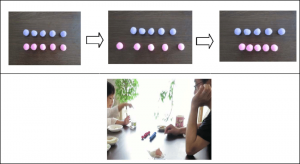 The Video
I watched a fascinating YouTube video on the psychological phenomenon of Conservation in developmental stages of a child. As I scrolled down the comment section there immediately occurred a clear and virulent divide among those who watched.
This divide intrigues me. I enjoy dissecting the machinations of the human mind and the study itself was interesting but the rancor displayed in the comment section, by the various sides, is what I'd like to talk about today.
What is Conservation?
The theory, proposed by Jean Paiget, suggests when presented with various tests of liquid, numerical information, solids, and weights; children of a certain age are able to answer two questions correctly while younger children are generally only able to appropriately answer the first.
I won't go into great detail but the experiment basically follows a simple outline that involves two equal things or groups being presented side by side and then again with their form changed in full site of the child. Younger children answer the first group as the same but the second group as different. This seems to indicate a lack of understanding the liquid when poured into a taller but narrower glass is still the same amount of liquid despite appearing taller.
The Comments
The comments broke down into three categories. One group of people saw the experiments and were convinced younger children seem to have trouble with the concept of conservation.
The second group of people thought subtle nuances from the experiment encouraged the child to answer one way or the other. Or that the children simply did not understand the concepts of more, less, and the same.
The third group thought it was cruel of the experimenter to present this as evidence for the stupidity of the child.
All three groups tried to explain why they were right and things degenerated, as comment sections often do, into personal insults and demands for sources. There was various forms of yelling at the stupidity of anyone who did not agree with the commenter.
I don't think anyone's opinion changed.
What did I Learn from all of this?
First off, let me say the idea of Conservation makes sense to me. I believe younger children have difficulty understanding flattened playdough has less volume than a ball of playdough. I think Conservation is real and also understand it is not done to judge the child but to understand the development of cognitive thinking in humans.
I'm also of the opinion I'm never going to make people who disagree change their mind with a comment or a simple blog post. Others are going to remain convinced their opinion is correct and there is little I can do about that.
So, should I stop writing novels, this blog? Should I stop commenting on posts? Will I stop trying to convince people my political and ideological philosophy is best for the United States and the world? Should I shrug my shoulders and give up on humanity?
The answer is, as I'm sure you've guessed, no. It's really not up to me to decide how you think, even if you are being stupid. Your stupidity is your own to have and if you think something ludicrous is true; I'm going to explain why you're wrong but having done so, it's all on you. My responsibility is over.
In short, prepare yourself for more blogs, more novels, and more smug self-righteousness.
Tom Liberman