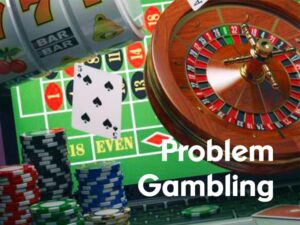 I've written on the topic of gambling numerous times over the years and generally from the perspective of a Libertarian. That is to say, it's your money and how you choose to spend it is up to you.
That being said, I've seen the destructive potential inherent in gambling from when I worked in the golf industry. Even then I thought the problem so wide-spread and influential on young golfers that I made a point not to gamble just to be a possible role-model.
Gambling in the United States is now easily accessible to just about everyone. Casinos are everywhere. Video games have Loot Boxes. Smart phones give access to betting games at all times of the day and night. Problem Gambling is an incredibly destructive addiction and, with greater access to gambling, more people are affected.
What's a Libertarian to say about Gambling?
In various blogs on the subject my position is fairly clear. The government should not be in the business of enforcing gambling bans and putting people in prison for gambling. If people want to gamble, they will find a way and the prohibitions only create black markets and misery.
I also think government shouldn't be facilitating gambling. Government should tax gambling houses in the same way it collects revenue from any other store. The rational being the government provides roads, utilities, and other things necessary for the operation of the store. The only special tax on gambling should be used to fund treatment facilities.
State run lotteries are antithetical to my understanding of how government should operate. They should not exist.
Problem Gambling
The reason I'm writing this article is the increase in problem gambling. It's a serious problem. Gambling addiction is real and it destroys lives. The greater access we have to gambling, the more lives are destroyed.
Prior to 1979, gambling was largely in the hands of the states and quite restricted. With the advent of Native American Gaming, that all changed. Soon lotteries followed, video poker, sports gambling, and more.
As a child, I remember reading the raffle games rules on the back of cereal boxes. Not valid in Missouri was often in the footer text. Such games were illegal in my state. Not anymore, not by a long-shot.
I'm not going to try to pretend because I'm a Libertarian and support legal gambling that it's all wine and roses. It's not. It's a big problem and growing fast. It's likely you know a problem gambler, I've known a few over the years.
What's a Libertarian to do?
Where does that leave me? Should I change my mind and support prohibitions on gambling? Can I just pretend the people who suffer terribly in part because I advocated for gambling don't exist? That their problems are not my fault, not my business?
My position is not simple or easy. As I've mentioned before, I think Critical Thinking skills must be taught to children starting at the earliest levels of education and reinforced every year thereafter. These lessons must include the basic principles of gambling. How it affects the human mind, the methods used to entice gamblers.
Biology classes should discuss the release of Serotonin and Dopamine into the human brain and why some people are much more likely to become addicts.
Treatment
Facilities for treating gambling addiction are on the rise, as can be expected, and that's a good thing. As I mentioned above, I don't think it unreasonable to have added taxes on gambling to fund these places.
Conclusion
I don't think banning gambling works and I'm strongly opposed to the government funding itself from gambling. Banning gambling means those who are capable of doing it responsibly cannot do something they enjoy.
The only real solution is not a complete solution at all. It relies on educating people to the potential dangers, giving them the information they need, and then trusting those individuals to make good decisions.
Will this solve problem gambling? No. People will still make bad decisions. Brain chemistry will still bring on addictions. People will suffer and partially because I advocate legal gambling. I bear some responsibility for this enormous problem and that's why I say gambling is a problem for a Libertarian.
Tom Liberman