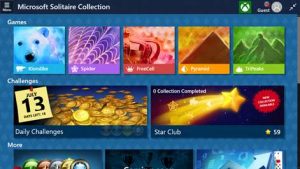 It's not a bad thing to change your mind when presented with a new argument you hadn't considered, that happened to me when I was talking about Microsoft Solitaire. It seems like people are largely uninterested in listening to facts that might change their thoughts on a subject. They merely want to confirm their own opinions. I recently changed my mind on a subject of relatively little importance but I think it demonstrates a useful way of thinking.
I like to play Microsoft Solitaire. So do a number of people I've met at the Facebook page dedicated to discussion of these games. There are two sorts of situation with the games. There are daily games. These are five games; one each of Klondike, Spider, FreeCell, Pyramid, and TriPeaks. If you manage to complete every game during the course of a month you get a Perfect Badge.
They also have a tournament every other day which involves completing a series of games as quickly as possible. You are grouped with ninety-nine other players and whoever can complete the most games quickly finishes with a higher rank and has the potential to get any number of badges.
One of my favorite types of games in either format is one in which there is a time limit to finish. This requires not only playing wisely but also playing quickly. I really enjoy the countdown of the clock as I try finish the game and I've finished a few of these with seconds left. They leave me feeling exhilarated, or frustrated, with my heart racing. I love them. When I see a time gamed, I immediately get excited.
Anyway, not long ago I was extolling how fun these types of games are and I noticed several people on the Facebook page lambasting the games as unfair. I could have immediately told these people they were incorrect, that I enjoyed the games and they should enjoy them as well, just because they're hard doesn't mean they are unfair. Instead I chose to read their arguments.
Several of the people who hate these types of games have arthritis of the hands, or some other medical condition. These people cannot move the mouse quickly or click fast enough to ever possibly win a timed game. This means it is impossible for them to complete an event or get a Perfect Badge. That is actually unfair. I was wrong. It's not unfair to me, I'm a pretty decent player, but it is unfair to people with physical handicaps.
Now, that's not to say Microsoft should stop including games of this type. The games are also unfair to blind people. They are largely less fair to older people and those who don't have fast reflexes. Life is filled with unfairness at every level. There is no end to the unfairness of life.
I sympathize with those who cannot finish these types of games and therefore cannot get the rewards associated with completing them. They were right, the timed games are unfair.
At issue is my willingness to change my opinion. I didn't originally consider the games unfair at all, but as soon as a point of view I hadn't considered was pointed out to me, I immediately changed my mind. I don't think this is any world altering change of opinion. I didn't go from being a Cardinals fan to being a Cubs fan. Shudder. I do think it's a valuable lesson in life. Be willing to listen to arguments that don't support your point of view, and if they are convincing, maybe it's time to change your opinion.
Too often we simply lock out anything that doesn't agree with our preconceived notion. That makes the world a worse place.
Have a great day and maybe play some solitaire, it's fun!
Tom Liberman