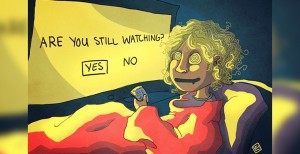 Probably a few of you know that I write novels and even fewer that I've written a number of screenplays although I've never sold any. I was thinking about the changing nature of television viewing habits and how that might effect screenwriters.
Many people binge watch televisions shows these days. The industry has recognized this as far a general content goes, they release entire seasons at once and story arcs that cover multiple episodes and seasons are now common.
What I'm considering is the idea that the script itself, the order in which things are presented, the nature of the Three Act Play and the Five Act Play might be twisted to accommodate and better entertain audiences in this new era.
For example, why do we have a cliffhanger at the end of an episode? If the audience can and does immediately watch the next episode, is it necessary or even appropriate? The entire season and even the entire show run is really just one long episode. On the other hand, cliffhangers keep the audience coming back for more and if we don't have them at the end of individual episodes and seasons but in the middle of an episode, would that cause people to not start the next episode or season?
Should there even be episodes in the traditional format? Should the season just be released as one long video with chapters like a book? Some chapters might be an hour, others might be fifteen minutes.
Perhaps the chapters could come with delineated break points with links to a website where people could post their thoughts, vote in polls, and otherwise communicate with others who have watched up until that break. If the audience doesn't know when the episode climax is coming, because the break could be at any point, does this add to their experience?
There would be drawbacks as well. If an episode is of varying length it's not as easy to plan a time to watch it.
Might inter-season specials be released with audience participation in mind. Perhaps you could release an episode and allow voting to determine the ending. Then go back and film said conclusion.
I'm not saying any of my ideas are good, I'm just saying that it's worth examining.
Tom Liberman
Sword and Sorcery fantasy with a Libertarian Ideology
Current Release: The Girl in Glass I: Apparition
Next Release: The Gray Horn