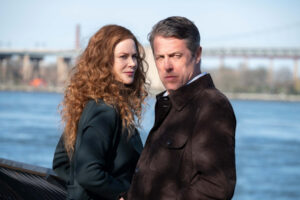 I recently watched The Undoing on HBO and came away somewhat ambivalent. There are a number of things to like about The Undoing but, in the end, it left me slightly disappointed. I've written before about how an ending must be satisfying for any sort of entertainment to succeed completely. In this case it did not.
The Undoing tells the story of the Fraser family and the Alves family. Jonathan Fraser is the bridge between the two. He is a doctor treating the Alves son and Jonathan also has an affair with Mrs. Alves. It is her gruesome murder and the arrest of Fraser that drives the plot.
What I liked
Let's start with the elements of The Undoing I enjoyed. The writers did an absolutely terrific job of keeping me guessing. Right up until the very end I wasn't entirely positive who committed the crime. My early guess was that Grace Fraser, played ably by Nicole Kidman, bludgeoned Elena Alves to death. From there I fluctuated between Grace, Jonathan, their son Henry, and even the grandfather played by Donald Sutherland.
I found the setting entirely believable and the events around Reardon School, including the ostentatious auction, immersed me in the life of the Fraser's completely.
Likewise, the acting proved largely excellent. Grant, Kidman, and Sutherland led the way but the supporting cast largely convinced me as well. Lily Rabe stands out for her portrayal of Grace's friend as did young Noah Jupe as Henry.
What I didn't Like
I found the courtroom scenes unconvincing. I regularly found myself thinking both lawyers didn't know how to object properly, having watched real lawyers do it at the Depp and Heard civil trial. I kept emerging from immersion to think to myself, is that a question or a statement? Shouldn't someone object here?
The final reveal also left me a bit dissatisfied. Shouldn't the police and prosecution have discovered the information about Jonathan's past during the investigation? They didn't really need Grace to present it to them on a platter.
The Conclusion
As you may have guessed from my tease at the beginning of this review, the ending left me quite unhappy. I think the series should have ended with the final courtroom revelation. We know everything, boom, credits. Over and done. However, that's not flashy. There is no running, shouting, or chasing. We don't have helicopters and police cars. We don't have a frantic Grace or an angry Jonathan and that's what the audience apparently wants.
Not me. The last ten minutes of The Undoing really soured my entire opinion of an otherwise very good series. Of course, you may disagree! Tell me why.
Stick the landing!
Tom Liberman