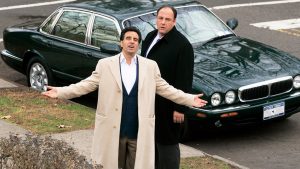 Little Carmine Lupertazzi is a character from the Sopranos and, if a fan of the show, you know he was generally portrayed as rather dimwitted. He often used malapropisms. He made poor managerial decisions and was largely not respected.
What's interesting is that in the years after the show's end his character has given rise to a rather popular theory that he was only pretending to be stupid. That in actuality he was luring his enemies into a false sense of security and biding his time to take over the family business. It is commonly, if not universally believed, the show's controversial ending was actually the culmination of his nefarious plot. That he ordered the assassination of Tony Soprano and took over both families.
That's what I'd like to discuss. Naturally we cannot prove anything one way or the other as it is a fictional show. Still, I'm of the opinion that it gives us an opportunity to examine the idea of how to be a good writer. Or at least one aspect of being so.
It is extraordinarily important to be honest with your audience.
Let's imagine you are a mystery writer and the butler did it. You need to conceal this from your audience until the final reveal. To cover up the fact the butler did it you have an eyewitness see the butler somewhere else at the time the crime is committed. Only at the end of the novel do you reveal the butler has a twin brother. That is a betrayal of your audience. They have been given information which they used in their thoughts about the novel as it progressed.
This is bad writing. Your audience will be angry at this contrived conclusion.
Now, if you established the butler has the twin brother at some earlier point, then you have not betrayed your audience, you have merely fooled them. There is nothing wrong with this. The audience slaps their forehead and exclaims, "Of course! I should have known that. It was mentioned earlier."
That is good writing.
This is why Little Carmine Lupertazzi is no secret mastermind. There is nothing to indicate as much. He is almost always portrayed as an utter fool.
We can say many things about the Sopranos as a television show but we cannot accuse the writers of being bad at their craft. We must assume the writers are good writers based on the content they provided us during six glorious seasons.
This is not just about Little Carmine Lupertazzi being an idiot. It is also a blueprint on how to be a better writer.
To a certain degree this is what separates excellent entertainment from its more common peer, garbage. What makes a good television show? Good writing, good acting, good directing, good lighting, etc. It is the sum of all these parts that brings us quality entertainment. Of which we desperately want more.
What books do you most enjoy? Movies? Television shows? Think about your favorite characters and ask yourself if their story was written in a consistent fashion.
We all want quality entertainment. Better television, better movies, better books. More shows like the Sopranos. That being the case, we must accept the fact that Little Carmine was an idiot.
Tom Liberman