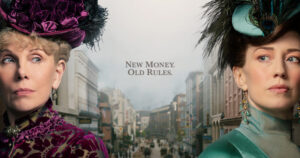 I watched episode eight of The Gilded Age last night and I'm afraid it was largely just characters talking at each other. Any momentum from last week's moderately decent episode went flying out the window. Almost the entire episode consisted of one character spitting out their lines at a breakneck pace without giving the words of the other character even the slightest consideration.
Honestly, I've seen some terrible entertainment over the years but this was the worst case of characters talking at each other I've ever witnessed. The problem of too many short scenes recurred, the problem of no central theme recurred, the problem of time flow recurred, it was a cornucopia of everything wrong with the Gilded Age.
Talking at Each Other
What do I mean by characters talking at each other being bad? Isn't that what people do? I speak and the other person responds. That's the normal flow of conversation, right? Wrong. The normal flow of conversation is that one person speaks, the second person listens to those words, formulates a reply, and then answers.
If I want to watch two people talk at each other I'll turn on the local opinion show that masquerades as news. That's just one idiot saying something and the other moron responding with whatever they wanted to say regardless of what they just heard. That's not what I expect from a highly produced television series.
Sadly, that's exactly what happened in this episode, time and time again. One person spoke and almost before the sentence ended the second person spat out a cutting reply with no intonation, no reflection, no indication of any emotion. Just a quick, sharp, and move on to the next scene so I can see someone in a different outfit.
A Good Dialog
The only reasonable dialog in episode eight occurred when George discussed the derailment issue with his experts. The experts, minor characters, actually listened to George, thought about his words, and then replied at a normal pace indicating they listened to his original statement. It was startling to see the contrast between the bit players and the main actors.
Bad Acting?
Is bad acting to blame? I'm don't think so, at least not in every case. Christine Baranski and Cynthia Nixon are two capable, veteran actors with good work to their credits. Even they seem to struggle to speak their lines with emotion and thought rather than spit them out like a runaway steam locomotive.
I'm of the opinion it's the directing. The actors are being told to spew out their lines quickly and without emotion, to not pause, to fail to consider their opposite's words. The problem is far too universal and largely only with the main characters to simply be bad acting.
Now, it's possible some of it is bad acting, I don't deny that and I think everyone knows the actors of whom I speak. But, it's also possible that those actors are actually talented with potential but being wrecked by terrible direction.
Conclusion
The season is barreling toward its conclusion with Gladys's debutant ball. Perhaps when it comes time to film the second season someone will have noted all the problems and try to give this show the direction it needs. I hold out little hope for the remaining episodes.
Tom Liberman