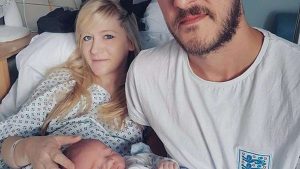 People who do horrible things to other people are evil. Connie Yates and Chris Gard are stealing a bunch of money from people and using it to allow a zombie baby to take up space and resources in a hospital that could be used to help someone else. That's evil.
They are parents and they love their child, Charlie, that I don't deny, but they have let that love become twisted into something horrible. Something that borders on, and in my opinion, crosses into a realm we call evil. Those who support them are not just enabling this situation but contributing to it.
Charlie was born with a terrible disease that left his brain destroyed. He is unable to breath or move. He is blind and deaf. Even if the cause of this tragic disease could be treated, and it can't, his brain is dead. He is simply a lifeless zombie. I can only hope Charlie doesn't have nerve activity and he is feeling no pain. Still, there is tremendous pain being intentionally inflicted by Yates and Gard playing to people's heartstrings with the impossibility of the boy's recovery. They are stealing money from people, not for themselves, but for doctors offering an experimental treatment that will do nothing to reverse the brain damage.
One of the most fundamental issues of this situation is the reversal of normal morality. In many cases it would be immoral to allow a sick child to die. If the child had a disease which can be cured, it would be despicable to place that child in the woods and allow it to die. This was done throughout history but medical care has improved to the point where children who were doomed to horrific lives until a few hundred years ago, can now live full and fulfilling lives. Thus, when we hear about a sick child whose parents are trying to get medical care, we are predisposed to think of them as heroes and those who are opposed as villains.
In this case it is the reverse. Keeping Charlie alive is the immoral act. The professionals at Great Ormond Street Hospital are the ethical and kind players in this story. The judges who have made their rulings are moral.
What I'm saying is brutal. It's not nice. I'm not a nice guy. Ask anyone who knows me and they'll be happy to confirm I'm often times quite a jerk, quite forceful, when it comes to putting forward arguments. Be that as it may, what I'm saying is true. Keeping Charlie alive is the immoral act. That's the bottom line. The parents are engaged in behavior that I can only describe as evil.
There are a number of people in Social Media and other places who supported and continue to support this behavior. They encouraged the parents to take money from many people for the pursuance of an immoral act. They encouraged the people to keep poor Charlie on life-support for the last ten months when they could have ended this entire ordeal, and saved a huge amount of pain and suffering. Those who support Yates and Gard are contributing to the evil.
If that's you, I won't apologize. Get your act together.
Tom Liberman