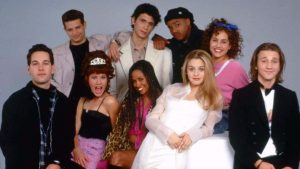 Yes, time again for a Libertarian Movie Review. Today I examine the timeless Jane Austin novel, Emma. That is to say, in the more modern form of Clueless. Released all the way back in 1995 it was a hit and is often considered a classic. It launched the careers of Alicia Silverstone, Stacy Dash, Paul Rudd, Brittany Murphy, and director Amy Heckerling.
Clueless largely tells the story of Cher Horowitz, the daughter of a wealthy and powerful Beverly Hills litigator, marvelously played by the always great Dan Hedaya. In one of the early and most important scenes in the movie, Cher is given a subpar grade by a grumpy teacher and rather than accept it, she goes to work to get it changed. Not through computer hacking but in improving the life of her teacher, who will then hopefully be more open to a better grade in future negotiations.
While Cher is certainly Clueless in some regards, she is clearly well educated and has goals in life. Some of them shopping, most certainly. After igniting the romantic fires of two of her teachers, and getting a bump up on her grade, she decides that doing good things makes her happy. And, by golly, she's right. When we help others, when we improve the lives of those around us, we also improve our own lives. She is helping people using what Ayn Rand would call selfishness.
Cher wants a better grade and finds the best method to do so is to make her teachers happier. Her life improves, as do the lives of those around her. Cher then sets out to do good for everyone including the tragically, her words not mine, unhip girl at school. Things begin to go wrong when Cher tries to pair Tai, played by Murphy, with a rather shallow and socially conscious boy, when it is clear she prefers the skateboarding and fun-loving Travis.
The failing isn't in Cher trying to help her friend, just in not seeing the best strategy to make Tai happy. These things happen, we try our best but we often fail. Cher then experiences other failures, but rather than dwell in misery, she takes an introspective walk. She examines her own failures and tries to determine where she went wrong, and gets in a little shopping while she's at it.
Clueless offers a lot of reality and some excellent Libertarian philosophy while doing it. Sure, Cher is a spoiled and Clueless fifteen-year-old girl, as would be anyone raised in such an environment. But she has brain, she uses it to improve her life. She has cool clothes and a great car, and that helps with her popularity but Silverstone plays a girl who would be popular everywhere, in almost any circumstance. She is intelligent, funny, and easy on the eyes.
When she is helping Tai, it is not all about being fit, there are vocabulary lessons and book reading exercises. Cher understands you don't get far in this world without being able to think clearly. Despite setbacks, she clearly demonstrates her intellect and her unwillingness to give up.
The main lesson here is that by helping yourself, you help those around you. That is one of the most important core tenants of the Libertarian Philosophy. Therefore, Clueless gets a full Five Freedoms from this reviewer. A wonderful film worth watching again, or for the first time.
Tom Liberman