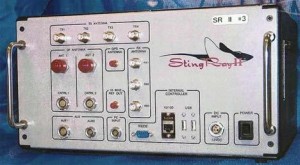 I just read an article about something called a Stingray Phone Tracker. If you believe in the Fourth Amendment to the Constitution you should read about them as well.
What is a Stingray Phone Tracker? It's a new weapon in the arsenal of local police that forces your cell phone to connect to it instead of the local cell tower. Law enforcement can then target your phone and download all conversations, text and voice. All this is within the scope of the Fourth Amendment if said use of the Stingray was authorized by a Probable Cause Warrant. The problem is police are using it with what is called Pen Register authorization. This only requires that police state the number is useful in an ongoing investigation and requires far less justification than a Probable Cause Warrant. It's probable police are using it without any permission whatsoever. Nor are there any rules about how long they can keep the information and with whom the information will be stored.
It is only recently that people are learning about the use of these Stingrays but there is no doubt in my mind that once police have such a weapon available to them, they will use it, and use it frequently. What little information exists suggest as much.
Some local municipalities are now requiring that the use of the Stingray be specified in the request to the judge. It seems clear that police have been obtaining the Pen Register authorization when the judge in question didn't understand the technology and what could be gleaned from it.
For some time now we've been quite concerned about the federal government listening to our conversations but now it seems quite likely that everyone down to your local sheriff has the ability to the do the same and apparently without much supervision or public knowledge.
I suppose there are those out there who trust law enforcement agencies to use this technology properly and there are even those who say if you don't do anything illegal why would you care if the police listen, record, and store you texts? Well, I care. They have no business doing so and the Constitution of the United States makes that clear.
I'm not opposed to police and investigation but I also strongly believe in the Fourth Amendment and if law enforcement officers want to listen to citizens conversations they must obtain a warrant. Otherwise they are breaking the law and should be prosecuted.
Tom Liberman
Sword and Sorcery fantasy with a Libertarian Ideology
Current Release: The Black Sphere
Next Release: The Girl in Glass I: Apparition