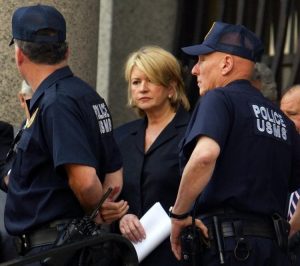 I've been reading a number stories about Martha Stewart and her feelings about being imprisoned in 2004 for conspiracy, obstruction of an agency proceeding, and making false statements in regards to the sale of ImClone Systems stocks. She felt it was a horrible experience and she learned nothing from it.
I think there are a number of things to take from Stewart's opinion on this subject not the least of which is that she was convicted in what most people would regard as questionable fashion and I would classify as grossly unjust. I find her words about her imprisonment resonate strongly with me. She was not made stronger for her stay in jail, she learned nothing, she did not become a better person. It was horrible in every regard. This is an indictment of our prison system.
First, I'd like to talk about her conviction. She sold some stock shortly before it went down by 16% and avoided about $50,000 in losses. This may seem like a lot to you and me but to a woman of her means, it is a fairly trivial amount. Her broker supposedly was informed by an insider that a drug the company was promoting failed to gain approval. Stewart claimed there was a standard order to sell when it reached a certain price, $60, and had documentation that such an order existed.
An ink expert from the Secret Service testified the ink on the order for the ImClone sale was different than other ink on the document. He lied. He hadn't even examined the document. Another worker examined it and it was clear she had a grudge against Stewart. The case of securities fraud against Stewart was so flimsy the judge threw it out of court. But, Stewart insisted the order for sale at $60 was real and she was convicted on charges related to these statements. This despite the fact the person who claimed it was different ink was lying. She was not convicted of securities fraud. The civil case was eventually settled with Stewart paying the government the equivalent of triple damages although she maintained her innocence.
So, off she went to a minimum-security prison. Here's where her comments really caught my eye. She was asked if the sentence and imprisonment made her stronger. If the adversity was essentially good for her. This question reflects what we'd like prison to be. A place where inmates reflect upon their misdeeds and emerge the better for it. No, said Stewart. It was not a learning experience. It did not make her stronger. It was horrible. It was only her own strength of character that allowed her to endure. This confirms my opinion that prison is not making better people but is largely making better criminals. It is not turning criminals into good citizens but conversely, turning good citizens into criminals.
This assessment is coming from an undeniably strong woman who was sent into what is largely considered the least penal sort of prison. Imagine men and women of lesser character getting sent to far worse places. We turn a young person who perhaps robbed a store, got caught with some small amount of drugs, or perhaps got into a drunken fight into a hardened criminal by sending them to our failed jails.
If the goal is to have a better society, to have better people, then we must listen to what Stewart has to say. If we merely want to punish people and ensure they are more likely to commit crimes after their release, then we can safely ignore Stewart's advice. It's important to note that Stewart is not merely answering a question, she is unleashing a stinging and startlingly accurate indictment of our entire system. I'm not surprised, she is a woman of tremendous strength.
If you choose to ignore her, do so at your own peril. More and better criminals is not a recipe for a successful society.
Tom Liberman