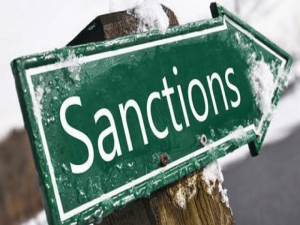 When the leaders of a nation decide they want to act in a way the United States perceives as detrimental, the general solution is economic sanctions. The idea being that such sanctions hurt the offending nation and politicians eventually give up on their policies. What I'd like to discuss today is what really happens when we implement economic sanctions on another nation.
One of the main arguments against such sanctions is the leaders of the nation don't suffer any impact but the average person in said country is economically disadvantaged. The argument for sanctions hopes the people will blame their government for lack of goods. Unfortunately, I think it is much more common to blame the nation imposing the sanctions. It drives a country deeper into behavior we dislike. However, this objection is the least of my troubles with sanctions.
One of the biggest problems with sanctions is that, like a sword, they cut both ways. When we limit trade with a foreign nation we are now preventing companies within the United States from making a profit by selling to willing buyers. As an example, I have a number of family members and friends who work for Boeing and they are hurt by the fact their employer cannot sell goods to quite a few countries in the world. For many companies, this is certainly the difference between growth and hiring and shrinkage and layoffs. There is no question all the economic sanctions we are currently prosecuting badly hurt industry in the United States. How much business could be, and should be, done with Cuba?
Another enormous problem is there is largely a "Don't Ask, Don't Tell" policy when it comes to sanctions. When we ban selling or purchasing a product from a particular nation it hardly stops such activity. It simply pushes it underground. Many of the companies and nations who supposedly support such sanctions actively work around them in a variety of ways, chief among them is simply maneuvering and repackaging product.
Basically, if we aren't allowed to sell something to a country, that product is shipped to a third-party nation that does trade with the proscribed country and the commodity is simply packaged in a container to disguise its point of origin. And, of course, the reverse happens in purchasing such goods. The offending country ships things to a willing nation who then repackages and sells back to the United States.
The second problem leads to the third, which is the creation of a black market where criminals gain huge profits at the expense of regular consumers. The moving of these goods must be done by extralegal sources or officials who are taking bribes to perform the necessary maneuvering. Now we are empowering criminals and corrupting officials. The product should be shipping at a certain cost but the price goes up because of the sanctions. Thus, when you purchase a product that might somewhere on the supply chain pass through the country with sanctions being imposed against it, you pay an increased price.
Likewise, the illegal maneuvering to avoid sanctions leads us to the fourth problem: Enforcement. Thousands of people and billions of dollars are spent trying to prevent nations and companies from maneuvering their goods in an attempt to avoid sanctions. We have agents at ports around the world inspecting packages and trying to make sure they actually come from the country of origin the packaging claims. This costs taxpayer directly, as opposed to the more indirect cost of higher prices.
Highly trained law enforcement officials spend their days and nights trying to figure out how nations and corporations are avoiding the sanctions when they could well be doing something more useful. The amount of time and money spent trying to enforce sanctions is astronomical.
The final point of my argument against sanction is they simply do not work. The nation in question continues functioning in a fairly normal way. They continue to sell their goods to willing buyers; either nations that have not imposed sanctions or through a black market.
Sanctions apparently do no good whatsoever, cost us huge amounts of money, waste the time of highly trained professionals who could be doing something else, generally harm the average person of the offending nation thus cementing their hatred of the United States, corrupt officials, funnel money to criminals, and cause an increase in the price of the goods you purchase. Yay!
Let's take a quick moment to look at the results if we continued to trade with nations who we consider our enemies. Our companies make a profit, the people of those nations look at us more favorably, we pay lower prices, and there is an opportunity to open lines of dialog to bring about the change we are attempting to create through sanctions.
It's a natural reaction to want to punish nations we think are behaving poorly but a better strategy is to engage. Better for everyone.
I ask for all sanctions, to all countries, be dropped immediately.
Tom Liberman