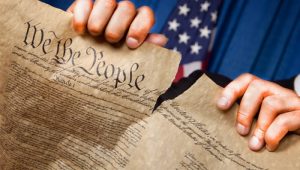 What happens when you throw the Constitution out the window? It's a fair question these days because both Republican and Democrats, about 95% of all voters in the country, are fully on board with ignoring that document whenever they find it convenient.
Our sordid tale didn't start with one president or one particular Executive Order but it escalated to new heights under President Trump and his endless national emergencies and is continuing in that direction under President Biden.
One example of this is the arms sales to Saudi Arabia and the United Arab Emirates. A few years back Saudi Arabia blew up a busload of school children in Yemen and our brilliant members of Congress thought to themselves; hey, why exactly are we selling Saudi Arabia the means and giving them the training required to do this? So, when the sale of arms to that country came up, the members of Congress voted against it. Done deal, right? I mean the Constitution of the United States is clear. Purse strings equal Congress.
Oh, how wrong you were. President Trump simply said screw Congress. It's a national emergency, I can do whatever I want; here you go Saudis have it, kill as many school children in Yemen as you want, it'll all be good.
Now President Biden has said, now wait a second, I might not want to sell weapons to Saudi Arabia and the United Arab Emirates so I'm putting those sales on hold. Well, sorry to say, self-righteous Democrats, that's not within his authority either.
I've written a number of articles that touch on the idea Congress and the President seem quite happy to throw the constitution out the window when it serves their purposes. The expansion of executive power, whether or not government should control our energy policies, and if we should be involved in the idea of economic sanctions at all.
All of these thoughts swirl around the fact we largely allow government officials to do whatever they want and whenever they want; because we agree with the policies so enacted. The problem, of course, is the politicians aren't always the ones for whom we voted. Sometimes the other party comes into office and uses these powers in ways we don't like. Oh, how we cry then.
The underlying problem is that no one cares. Everyone is happy, eventually, when Congress and the Executive Branch does whatever they want without any regard for the Constitution of the United States. Sure, you don't like Biden cancelling the contract, sure you didn't like Trump making the contract, but by supporting either, you are supporting both, not that you seem capable of thinking that broadly on the topic.
Virtually every unconstitutional executive order Biden signs is simply counteracting unconstitutional executive orders signed by Trump.
What happens when you throw the Constitution out the window? Dictators come into power. The Founding Fathers? They knew it and cared deeply about preventing it. You know it also; you just don't care.
Tom Liberman