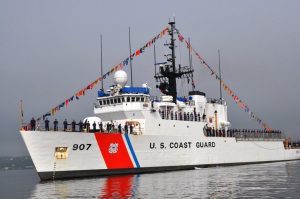 The New York Times just published an article which detailed how low-level drug smugglers from South and Central America are being held on Coast Guard ships for months at a time under appalling conditions. There is the usual righteous outrage that we could do such horrible things to people but I'd like to focus on the damage it is doing to the young volunteers who serve and protect our country.
What is happening is relatively simple. 1986 a law was passed in the endless and useless War on Drugs called the Maritime Drug Law Enforcement Act. It empowered the Coast Guard to search and seize drugs from any ship in International Waters, even if there was no evidence the drugs were intended for sale in the United States. A small amount of arrests were made on a yearly basis after that but everything changed in 2012 when it was decided to use this law to seize and arrest on a large scale.
These arrests are taking place far from the United States and there is no inexpensive way to bring the suspects to trial. Therefore, the prisoners are kept aboard Coast Guard ships for months at a time. The Coast Guard ships have no facilities so the prisoners are kept chained to the deck and fed at a barely subsistence level. The fellow in charge of all this was General John Kelly, now White House Chief of Staff. He strongly believes we need to expand the War on Drugs.
The men and women who serve aboard those Coast Guard vessels are largely idealistic and want to make the nation a safer and better place. What we are doing is wrecking them. No human can participate in chaining other humans to a deck for months at a time while feeding them little food and come away unscathed. What Kelly is doing is failing to make the United States a safer place and is destroying the moral and ethical compass of an entire generation, our people.
This is the natural extension of the horrors that occurred at Abu Ghraib and lays at the feet of Kelly. Kelly and his allies argue the prisoners are not being mistreated and the law is being followed but they completely forget the women and men who are carrying out their vile orders. These people, the best and brightest our nation has to offer, are learning we can and should treat others like animals. This is not a lesson easily unlearned. I can only imagine the nightmares being forced to do something like this would cause me and I'm a grown man.
Hundreds and perhaps thousands of our young Coast Guard volunteers are being ordered to participate in what can only be called immoral actions. They are being told by their superiors, supposedly morally sound officers, to engage in these actions, to watch as men are tortured. In these circumstances the vile among us rise while those who are good and decent must hide, quit, or simply go along because they see no other choice. What horror.
The long-term effect of these actions on the Coast Guard as a whole, on the men and women who issue the commands, and those tasked with carrying them out are incalculable. The people who are being forced to do these things will go on with their lives, they might join other branches of the military, they might become law enforcement officers, they might take roles in our government. They are forever damaged and will carry on with the lessons they are learning. That is a danger to us all.
Shame on you, Kelly and all the others involved in this ruination of the young men and women of the Coast Guard. Shame.
Tom Liberman