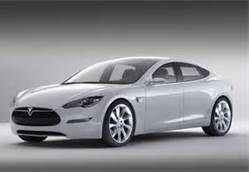 The state of Texas has a law that allows only franchised dealers to sell automobiles. The idea is that only an authorized franchise store of Ford, or Chevy, or Toyota is allowed to sell cars.
The Texas Automobile Dealers Association convinced the legislature to ban the sale of Tesla cars because the company sells directly to buyers instead of through a licensed franchise.
I'll let TADA president Bill Wolters explain why in his own words. If Tesla were allowed to sell cars without a franchise, "… it allows every other manufacturer to come in and do what Tesla is going to — compete with our family owned businesses."
He goes on to say this would hurt consumers because franchise dealers compete with each other to keep prices down and they serve customers in rural communities.
So, competition is good, just not competition from anyone who isn't from Texas? Anyone who doesn't want to pay franchise fees? Someone who simply want to sell their product to people who want to buy their product? How dare they? Do they think they're capitalists or something?
I've got news for consumers. Competition is good for everyone. This law is protectionism at the expense of consumers.
The success of Texas in banning sales of Tesla's is spreading. Other auto dealers are gearing up the legislatures in their states to do the same thing.
I'm no giant fan of the Tesla. It's got some issue but if the people in Texas want to buy the thing, the government should not stand in their way. Government has specific and useful functions and one of them is not pandering towards one business over another. If the Tesla is to fail, then let it fail on its own shortcomings.
I write post after post after post about this subject. How business owners bribe legislatures into passing laws to destroy competition.
What really angers me about this particular brand of crony capitalism is the nasty liberal slant. We're doing it to help the consumers. That's the song and dance of the liberals. Trust us, if this nasty businessman gets his way you'll end up being the one hurt. I'm used to such nonsense from liberals but I suppose I should have grown accustomed to hearing it from republicans by now. They don't believe in free enterprise and capitalism any more than a liberal democrat, if they ever did.
The government has a role in our nation. If the Tesla was poorly designed and exploded on contact, then the government has some duty to protect its citizens. Even then I don't think they should be able to ban the sale completely. They can offer consumer guidelines and warning. That's not the case here. The Tesla is apparently a very safe car although perhaps not as safe as their marketing department would like you to believe.
Texas politicians are looking at legislation that would make a narrow exception for the Tesla but the entire law is clearly designed to stifle competition in favor of local dealers.
I'll leave it to you to figure out why the politicians decided to pass laws favoring locals.
I've got nothing against local businesses. It's great when they succeed but when government gives them an unfair advantage it hurts consumers.
If Tesla sells a lot of cars then it forces those local Texas dealers to compete. Some of them might lose the competition and go out of business. Those that survive will be the  best dealers in the state. That's the nature of the free market. Companies that provide a good product at a price point people want, survive.
Propping up a business that can't compete or passing legislation that favors one company over another is Crony Capitalism. It's rampant. Democrat? Republican? What's the difference?
Tom Liberman
Sword and Sorcery fantasy with a Libertarian Ideology
Current Release: The Sword of Water ($2.99 for a 300+ page eBook)
Next Release: The Spear of the Hunt