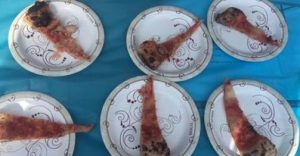 A fellow named Ishmael Osekre organized a pizza tasting festival in New York City which is being compared the failed Fyre Music festival held in the Bahamas. I'm not going to get into detail on the failings of the festival, suffice it to say serving tiny slices of cold, miserable pie to a New York pizza savvy crowd is going to be a disaster. What I'd like to discuss is the best remedy to this situation? Social Media? Government?
The first avenue is that of Libertarian dreams, Social Media. Such Gotham users are in an uproar about the event. Facebook, Twitter, and more are alive with people complaining about the scam and demanding their money back. The organizers eventually promised to create a makeup date but that is doing little to appease those wronged. As one of those aforementioned Libertarians, I'm quite pleased with this turn of events.
That being said, there are realities to embrace. Osekre might well pack bags and depart, leaving everyone out not only the money they paid but also the time they spent attending the event. In addition, such visitors might well have done something else that day of greater value. Social Media can certainly shame such a fraudster. It can spread the word so that the perpetrator will have a difficult time attempting the same in the future.
However, it is still quite possible for Osekre to change names, move to another city, and attempt the scam yet again. Each time he might steal money from those who want to attend such festivals. I think Social Media makes this far more difficult, but it is still possible. This is where government enters the picture.
Alerted to the travesty by Social Media, the Attorney General of New York is investigating and considering charges. Legal remedies are something beyond the power Social Media. If Osekre collected money but did not provide the expected service, that is a crime called breach of contract. Even if the festival was created in good faith but Osekre simply underestimated the popularity, the people who paid money were still defrauded.
My question then becomes; what is government going to do about it? The courts might well find Osekre guilty of a crime and sentence him to prison. They might order him repay the festival goers. The thought of punishing Osekre with imprisonment certainly appeals to the vengeance part of my brain. The possibility of people getting their money back is certainly a reasonable outcome. I'm not convinced people will ever get their money back. The money is probably already largely spent and there is little way to recoup the losses.
It seems to me there is room for both remedies and one creates justice where the other fails, they complement one another. We live in this brave new world in which the collective has far more power than it ever has in the past. Prior to the advent of the Internet and the rise of Social Media, scam artists like Osekre could simply travel from place to place perpetuating the same crime again and again. It was up to government to stop such fraudsters.
In the past government often failed to do so. In fact, government not infrequently became complicit with the fraudsters as long as they were cut in on a share of the profits. This sort of thing still happens on a fairly regular basis. Social Media can force government to be held accountable in a way never before seen in human history with the notable exception of violent revolution. In the same way, Social Media can hold criminals such as Osekre accountable for their crimes, or at least make it far more difficult for those like him to continue on with their nefarious schemes.
To my mind, this is a wonderful synergy. Government and the people working together to implement justice. This dual defense brings us perhaps as close as we're ever going to get to true justice. Count me in.
Tom Liberman