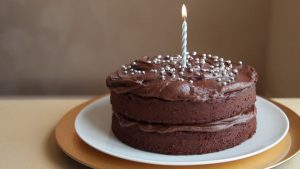 I just learned a rather astonishing fact. Those little silver balls, dragees, you often see on cakes and pastries during the holiday season are for decorative purposes only. The United States government does not allow them to be served for consumption. Presumably if you did so, you'd be subject to imprisonment or a fine. Well, a lot of people I know should be in federal lockup, which is the point of my article. What good does banning silver dragees do?
To me this is a clear illustration of the responsibility of government as compared to what is actually happening. If the government has evidence silver dragees are dangerous, they are considered edible in Europe so I'm guessing the science isn't conclusive, what are the options? People are going to put them on desserts no matter what and some people, me included, are going to crunch away.
I have no problem with government alerting people to the potential dangers of silver dragees and warning against eating them. That's fine. That is the role of government. I'd support research on the subject funded with taxpayer dollars and a website illustrating the issues. However, it is when the government tries to enforce these suggestions with actual laws that we run into all sorts of troubles.
In only one state, California, are the silver dragees illegal to sell. Everywhere else you can sell and use them as long as you remove them before serving. Good luck with that. This law does several things, none of which I suspect the government was hoping to achieve.
First: It puts a huge financial strain on companies that do business with silver dragees. California is an enormous market and losing it is not an insubstantial hit to profits. This hurts these businesses and the people who work there.
Second: It creates a potential black market in California for the items. People from neighboring states will smuggle illicit bags of dragees into the state and money will be funneled to criminal enterprises. I'm not certain if this is happening but I see no reason why it would not be so.
Third: The people of California won't have pretty pastries. It takes away from the esthetic pleasure of looking at them. This might seem trivial but it is a big issue for me. The government is basically taking away from the pleasure of people who might well use the dragees without consuming them. Let's assume they are dangerous to eat, there is still no reason to make it illegal to put them on cookies. It reduces the quality of my life, even if by an insubstantial amount.
Fourth: It creates an enforcement nightmare. California is presumably devoting policing resources to visiting retails stores and pastry shops to ensure they are in compliance with the law. They might even be raiding homes this Christmas to ensure no one is putting dragees on their cookies. Then there is the time spent in courts prosecuting the scofflaws who dare to put them on their pastries.
I know all this sounds a bit ridiculous and far-fetched but the War on Drugs is, for all practical purposes, a large-scale example of this issue. Every problem I've illustrated here has done much to destroy our way of life in the United States when it comes to drugs. We have spent enormous amounts of money interdicting drugs and locking up those who choose to use them. This cost is not just in money but in human potential, human lives. I'll leave off the War on Drugs comparison to the ban on eating dragees but the two issues are related.
By the people and for the people. That is the idea behind government. It is one of the jobs of government to protect its citizens but when government becomes financially invested in protecting its citizens from their own decisions, they are not making our lives safer, they are merely heading to a totalitarian state.
Tom Liberman