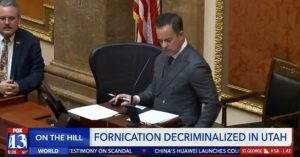 Legislators of Utah recently repealed a law that made having sex outside of marriage a crime, fornication. Interestingly, when the United States was founded no such laws existed but eventually sixteen states added them to the books. Punishment was rarely imposed and the Supreme Court largely made them unenforceable. Still, I wanted to examine the idea behind them and the danger they represent.
It's pretty much summed up by the words of one of the Utah legislators against the repeal. Basically, Representative Kevin Stratton says that what is legal is below what is moral, and fornication is immoral. Far below, in his own words. I would guess there are people across the country who feel this same way, I would guess largely religious people. What Stratton is saying is that it's true we cannot legally enforce the moral codes as laid about by various religious texts, but that doesn't mean we shouldn't try. Thus, he voted, along with 31 other members of the Utah House, against the repeal.
This is the sort of thinking that has long held sway in both major parties. I think I know what is best for you and, when I have a majority position, I'm going to force you to do it against threat of criminal prosecution. In this case it's certainly Republican based but I can offer examples of Democrats doing the same thing whether it be vaping or drinking sugary soda. Either way, it's simply you telling someone else how to lead their life.
We must be cautious about how many things we make against the law or we will essentially turn our entire population in criminal. Oh, too late, we've already done it. There are so many traffic and drug laws I would guess that hardly a day goes by without everyone committing a crime of one nature or another. Here in my home state of Missouri, it's illegal to use the wrong side of a crosswalk while crossing a street.
Imagine if the Supreme Court had decided it was perfectly acceptable to prosecute people for fornication. How many of you would be in jail? How many of you would have lost your freedom for having the audacity to believe you were actually free? Every time a law like this makes it onto the books, we put law enforcement officers in a position to selectively enforce their laws and that inevitably leads to inequity against whatever group is perceived to be the enemy. This is a danger to us all, because, eventually, someone who doesn't like the way we conduct our lives is going to have the majority.
At some point a person is going to be in a position of power who doesn't like something that you do and try to make it illegal. This is where the Constitution of the United States and its final arbiter, the Supreme Court, comes into play. They can strike down any law they believe violates the Constitution. Hooray!
We have limits expressed by the Constitution that people of both political parties really like and others that they hate. I find the Second and Fourth Amendments illustrate this nicely and I have a blog addressing that issue if you want to read it.
The point here is that Utah has, until the Governor signs the new legislation, a law that was ruled unconstitutional by the Supreme Court. It is unenforceable both legally and pragmatically. Yet, some people want it still on the books. If that doesn't make you appreciate the Constitution, all of it, then we are not of like minds.
Tom Liberman