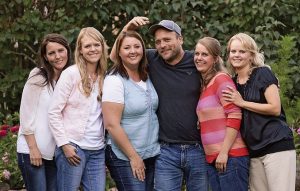 Mormon hotbed Utah is poised to make polygamy a misdemeanor crime instead of a felony and this Libertarian applauds them. I've written several posts about why the government should not be involved in the marriage game; either to promote it or make certain types illegal. This new legislation is particularly interesting from a historical perspective because Utah was allowed to become a state only if a ban on polygamy was written into their constitution.
This law is being promoted as a good thing because women and girls, primarily, are being victimized in a variety of ways but are afraid to come forward because the polygamy laws could potential put them in jail. The argument being that making polygamy a misdemeanor will encourage women who are raped, kidnapped, and otherwise victimized more willing to come forward.
It's important to understand this argument is completely true but not only for making polygamy a misdemeanor. Laws against prostitution and the war on drugs have little effect to stop either but anyone who engages in these trades can more easily be victimized because they cannot come forward to report such a crime. Remember when Omar robbed the Co-op? What were they going to do, call the police?
I just read a story about how the Coast Guard is proudly offloading twenty tons of seized cocaine in San Diego. I feel the vomit rising in my throat when I read how this evil drug will never make it into the schools and communities. Meanwhile, far more of the stuff under a pharmaceutical brand name is prescribed and sold legally throughout the United States. But, the War on Drugs, one of my favorite topics is not the subject of today's conversation.
This is the reality we must confront when creating laws that ban a practice or product from willing consumers. We essentially create an entire criminal enterprise where there might be a simple capitalistic market. This inhibits those who engage in the activity from seeking the protection of law enforcement and makes it more likely they will be victim to horrific crimes.
Young girls are forced into polygamous marriage and subject to serial rape. They don't come forward readily because they are criminals also, in the eyes of the law, and fear being imprisoned. If that doesn't resonate with you, it's hard for me to imagine anything will.
Making polygamy a misdemeanor is a step in the right direction but the reality is clear to me. Consenting, legally capable adults should be able to marry anyone, of any gender or number, they desire. The government should have no role in the enterprise.
Tom Liberman