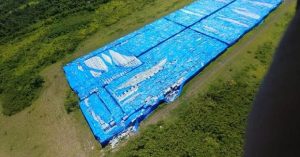 There's been an interesting image of a large number of water bottles sitting on a runway in Puerto Rico circulating throughout the news and my social media feeds. It shows tens of thousands or perhaps millions of water bottles sitting on a runway apparently unwanted and unused. What conclusions have you drawn from this event? I'm going to tell you what conclusions I originally drew and then what I found out when I investigated the issue.
Government waste of my tax dollars. Some stupid government agency either ordered way too many water bottles, didn't arrange for transport of the bottles to needy citizens of Puerto Rico, or simply forgot about them and left them on the runway. Then I did some research. In my original guess as to what happened I thought it was one of three stupid things; surprise, it was all three.
FEMA purchased, loaded, shipped, and unloaded far too many water bottles. The water bottles on the runway were not needed. FEMA didn't release the water bottles to the government of Puerto Rico until they had been sitting in the open, exposed to the elements, for months. FEMA didn't make any arrangements to distribute the water. Finally, someone noticed the water and contacted FEMA, who released them to the government of Puerto Rico, who then began to distribute them but found the water was fouled by its exposure. So, there it sits. Now someone has to clean it all up, again, using tax dollars.
Yay! Government hard at work as usual. Is it any wonder the disaster relief in Puerto Rico and other places has been less than stellar in its execution? I'm not saying disaster relief is an easy thing to do. There are many moving parts and a huge amount of coordination is required. We need professionals in charge of this sort of thing, not people who raised a lot of campaign dollars and want a nice salary. People suffer because of failed government and my tax dollars are given to bottled water companies for no good purpose. At least those businesses are happy.
My final question is to you. What did you assume when you read the story about those water bottles? Something different? Don't lie.
Tom Liberman