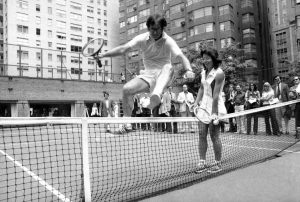 I was just a boy of nine when Billie Jean King defeated Bobby Riggs at the Astrodome in Houston on September 20, 1973 and remember the hype of Battle of the Sexes quite well. It was actually the second match for Riggs after he defeated Margaret Court earlier that year but the first Battle of the Sexes hardly had the media frenzy of the second. There have actually been a number of such events over the years with a variety of rules enforced to attempt to create an even match.
What I'd like to find out is exactly how good are the best women players of various sports in the world compared to their male counterparts. It goes without saying that Serena Williams could crush me in tennis. The only points I'd win would be her double-faults, if she had any. It likewise seems obvious Williams would not win many points against Novak Djokovic. Any attempt to handicap a match so that the obviously inferior player has a chance is of little interest to me.
I'd like to see Serena play a real match against the three hundredth ranked male player in the world. If she wins then play the two hundredth or if she loses try the four hundredth. I'd like to throw the WNBA Champion Seattle Storm against a good men's college team and see what happens. No handicaps, no special rules, just men and women playing together and see who wins.
The reason I find this interesting is not to somehow prove male superiority to women, which is sadly why I think these sorts of matches are often proposed. It's clear that in general men are bigger, stronger, and faster than women. Not to say there aren't plenty of women bigger, stronger, and faster than me; just that the best male tennis player in the world through the undeniable differences in genetics is a better player than the best woman.
But how much better? Let's say we find the level in tennis is at five hundred. That means there are four hundred and ninety-nine men in the world better than Williams and all the rest of us are worse. That's pretty damned impressive considering the physical differences inherent in gender.
I'm certain that determining this information won't result in anything particularly useful nor will it make the world a better place. It's just something I'd find interesting. It also gives us a benchmark with which to compare gender differences in the future. Let's say fifty years from now the best woman tennis player in the world can now defeat the four hundredth best male player or only the six hundredth. We can now start to make valid comparisons to players over the generations.
It also could make mixed gender leagues, or Battle of the Sexes, a common reality and that might provide excellent entertainment. Perhaps top high school boy's teams could regular play women's college teams. I think there might be public interest in such matches. Money to be made.
In any case, just me thinking aloud.
Tom Liberman