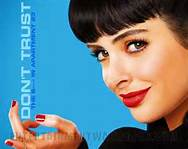 I don't watch a tremendous amount of television but there are a few shows on Hulu that I watch with regularity and something recently happened that, once again, caused me to question the rationality of television executives. Over the years we've all seen great shows get cancelled while shows not as good continue on. Sometimes it's purely a ratings decision but I'm going to examine the situation a little more closely today.
Why is a good show cancelled and what is it that we call good?
The incident that brought about this examination was the cancellation of the show Don't Trust the B* in Apt 23 while a somewhat similar sitcom called New Girl continues on. Apt 23 was regularly hilarious, generally funny, and occasionally stupid as cutting edge comedies often are. New Girl is almost always stupid punctuated by moments of funny. Apt 23 is well written and well acted. New Girl is poorly written with nonsensical situations highlighted by overacting and tired jokes. Yet, Apt 23 is gone and New Girl is highly touted by the network. Why?
The network spokespeople will suggest it is all about ratings but I'm not so sure that's the case. See Firefly or American Gothic and even now Community for examples of a network mishandling a show with time slot changes, episodes shown out-of-order, lack of promotional activity, and other seemingly destructive policies.
As I try to be a rational thinker I want to examine some possibilities on the cancellation that don't have to do with ratings. Perhaps a rational television executive crunched the numbers, the show production cost, distribution, long-term salaries, and weighed that against revenue, media sales of episodes already finished, and other factors. Is it possible that Apt 23 will make more money in DVD sales than it would have made if it continued in production for four more seasons? I don't know the answer but it's possible I suppose. Did the executive try to pick up Krysten Ritter in a bar and was shot down in humiliating fashion? It's possible. Does the executive's son hate James Van der beek? I don't know, maybe?
Next we have to examine the idea of good. Is good a completely relative term? Just because I think Apt 23 hilarious and New Girl painfully bad; is this objectively true? Certainly there are those who think New Girl is hilarious and those who probably didn't like Apt 23. I like to think there is an objective good. One joke is funny and another is not. Any comedian will tell you that certain jokes get laughs and others don't.
What are the factors that make a television show good or entertaining? Funny jokes, a plot that is logically accurate to itself even if far-fetched and fantastic, see Big Trouble in Little China. Actors who effectively convince you that they are the character they are portraying. Sometimes called good acting. Good camera work. A thematic structure to each episode and the show in general. Dialog that is crisp. Characters that are consistent. I think all these things objectively define good even if people don't always come to that conclusion. I think we can define Apt 23 as good and New Girl as bad.
That being my opinion I'm deeply saddened by the cancellation of Apt 23. I think about all the episodes of Firefly that were never made. I'm the loser because of this, I'm less entertained. I would argue that our society is the loser when bad wins out over good. Maybe it's not a big a deal when it comes to entertainment but maybe it is. Maybe every time bad wins out over good we are all diminished.
Of course, there's the possibility that New Girl is a great show and I'm just deluding myself.
Wouldn't it be great if better always won out over worse? What would your world be like if everything that was better succeeded? That's the ultimate goal of the Randian objectivist. I'm sure it's not possible but I won't stop striving. I hope you don't either. And I hope a young network employee reads this and goes on to become an important executive.
What do you think?
Tom Liberman
Sword and Sorcery fantasy with a Libertarian Twist
Current Release: The Sword of Water
Next Release: The Spear of the Hunt