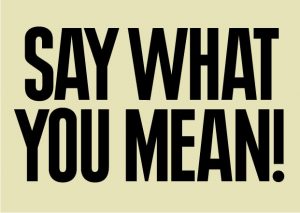 One of my Facebook friends just shared a post from one of her friends that started off with the following sentence: I know I should not … but I can't help myself.
What a coward.
I am using the word coward intentionally and I mean it. I am not being sarcastic. I am not trying to tell a joke. I am not saying something I know I shouldn't but doing it anyway. Why? Because I am exhibiting a character trait called personal responsibility. I am standing behind my words and saying what I want without pretending that I'm not saying it. I'm not a coward.
I'm ranting a little bit today because this business of "I was being sarcastic", "I was just kidding", "I was telling a joke", "I know I shouldn't but …", "No offense but …", are all cowardly and dishonest. Using such words demonstrates a complete lack of character.
If you know you shouldn't be saying something, I've got a recommendation. Hopefully you can figure it out.
If you say something nasty and vile about someone that turns out to be false I've got some advice for you. Apologize. Don't claim you were joking.
I'm not saying that a joke never goes awry because sometimes it does. I'm just suggesting people take responsibility for their words. Don't preface it with "I don't mean to be insulting but …", "No offense intended but …".
Those are the words of cowards. People who don't have the courage of their conviction. If you don't like my opinion then let me know and tell me why with good arguments. If I'm wrong, I'll apologize. That being said, this post represents what I meant to say. It is not a joke. It is not something I know I shouldn't say.
Tom Liberman
Sword and Sorcery fantasy with a Libertarian Ideology
Current Release: The Gray Horn
Next Release: For the Gray