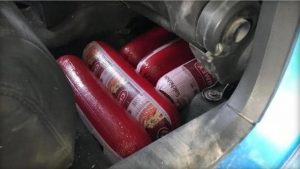 There's a news story about a woman who tried to bring bologna into the United States but was stopped by border patrol agents and it's tickling the fancy of audiences everywhere. An unnamed woman attempted to bring in about two-hundred and twenty-seven pounds of the savory meat but when she declared it, was fined $1,000 and the meat was confiscated and destroyed. Why? I'm not sure.
I've read several articles about the incident which all claim different reasons for the seizure. One says the meat contained pork, another says it was simply originally undeclared, a third claims it can cause disease in the pork industry. None of those reasons makes much sense to me. Bologna is generally made from pork so what's the problem? She forgot to declare it at first but then remembered at the second stop, who cares? How is processed bologna a threat to the pork industry?
The mere fact that three different news articles had three different explanations for the seizure and fine indicates that the sources of information for the articles probably didn't know why the meat was seized in the first place and were making things up. Maybe, I don't know. I do know if we have to stop someone from bringing bologna into the country, destroy it, and steal $1,000 from said person then something is wrong with the country.
I think it's important to understand the base reason behind the entire incident. Various government agencies; federal, state, and local all, finance their operations through money taken from citizens for supposed violations of the law. This is not the way it was designed to be. We pay taxes to finance our government. If government needs other methods to take our money in order to pay their bills there is one of two things happening. Either we are not paying enough in taxes to finance their reasonable expenses or they are spending far too much and using us to pay for their extravagances. Can you guess which one is more likely?
We have gotten to the point where almost every government agency in our country funds itself one way or another through seizure of our money based on laws designed simply to take that money. This is a never-ending circle. The government needs more money, our representatives don't have to convince us to support legislation for taxes, they simply pass ludicrous laws and begin to enforce them. It is plain to see, the majority of laws we now encounter are not designed to make us safer, but simply to steal our money so politicians can spend it on things they want.
One of the ways they connive us is the supposed lowering of taxes. We think we are paying less but they simply find even more revenue another way; fees, fines, seizures, licenses, you name it. We don't care when it is someone else from whom they are stealing, we smile and shake our heads until it is us they prey upon. Only then do we get angry. We should all be angry when government takes money in any way, from anyone, that isn't justified through reasonable argument.
As long as the people are willing to believe the excuses for the ridiculous laws the government enforces, they will continue to take our money. We must say enough is enough. No one is hurt when someone brings in bologna from Mexico. There is no danger. The government simply took someone's money, and if you're okay with that, you are part of the problem.
Tom Liberman