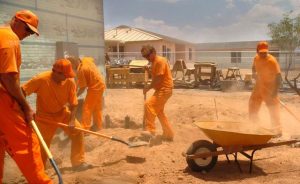 I just read an interesting story from the Guardian which brings up memories of movies like The Shawshank Redemption and Cool Hand Luke.
What is happening and happened in the past is prisoners in the penal system do work but are paid either nothing for this work or a few pennies an hour. We're all aware the United States incarcerates far more of its population than any other country in the world. That we largely use private contractors to house these prisoners. These private contractors get your tax dollars to run the prisons and operate on a profit system. They want more prisoners because that accrues more tax dollars into their pockets.
Harm to Contractors
The problem here is they are using prisoners to do the work in the prisons and additional work outside the prison. This avoids payment to contractors who would otherwise be doing the work in the system. Generating further profits for work done outside the system.
Questions
Q1: Is it right to use prisoners as essentially slave labor because they were convicted of a crime?
A1: If you want prisoners to work then pay them a fair wage for their work. That's capitalism. Certainly doing so would drive up the cost of incarcerating people but I think the reasons I'm going to enumerate in answering the other questions fully justifies such an expense.
Q2: Is it right to pay private prison contractors money for things like laundry service when the prisoners are providing it essentially for free?
A2: I'm absolutely in disagreement with this practice. If private prisons are going to use prisoners as slave labor then the government should not be paying the private company for the services rendered. The state is paying the prison to feed, cloth, house, and otherwise take care of the prisoner. The private company should be doing so out of the money paid to them from tax dollars.
Q3: What effect on other companies does using prisoners for work have on the economy of the region?
A3: This is the answer that goes to the very heart of the problem from a capitalistic point of view. Slavery was terrible for the economies of the southern states for the simple reason it took jobs away from otherwise able workers. It stole profits from companies wanting to provide the service that slaves did, and slavery worked against innovation and technology. For the exact same reasons we should not be employing prisoners to do work for free or for ridiculously low wages. Every service a prisoner provides is work taken from an able-bodied person. It removes profits that could be made for the company employing said person.
Conclusion
I'm not opposed to prisoners working but they should be paid fair wages for said work. This has additional benefits. It gives prisoners a sense of worth and accomplishment in finishing tasks. It gives prisoners money to accumulate for their eventual release which makes their rehabilitation into society significantly less difficult. Prisoners should also have access to educational material so that they can, should they so choose, improve their chances of getting gainful employment when released.
Finally I'm opposed to using prisoners as slaves simply on ethical grounds. It is wrong to force another person to labor without wages under any circumstances. Prisoner or not.
What do you think?

Loading ...
Tom Liberman