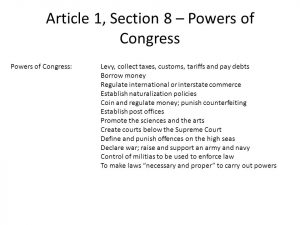 It is important to understand that the President of the United States absolutely, without question, does not have the power to implement tariffs without approval from Congress. This power is designated specifically to Congress by Article 1, Section 8 of the Constitution of the United States. Nowhere in the Constitution is the president given any power to do so alone.
I find it amazing that congress has allowed President Trump, the first president to ever unilaterally implement tariffs, to do so. They have largely done so because they either like giving the president such power or they have completely given up on the responsibilities the Constitution grants them.
In either case, President Trump is now implementing new tariffs that business leaders across the United States, like the Chamber of Commerce, and most of Congress itself oppose. They are threatening, finally, to bring the matter to the courts where it seems impossible to me that such actions will be not be struck down as illegal. Why have they waited so long? Why do they still hesitate?
This action by the president, the past actions by the president in regards to tariffs, are clearly illegal. If the president wants to implement tariffs then said president must go to Congress and get them to pass the law through the normal process or get them to grant him the ability to do so.
The precedent set by these illegal tariffs is enormously damaging. One does not have to strain the mind at all to imagine a time when a Democratic President simply bypasses a Republican Congress by acting illegally. I'm certain Republicans would be crying foul at that point but perhaps, just maybe, yesterday is when they should have been squawking.
This willingness to support illegal policies because they come from a party for whom you vote or even because you support the political ideology of the action is baffling to this Libertarian. Cannot you see what is good for the goose is good for the gander? By allowing such illegal acts you set yourself up for future retribution?
If the Constitution of the United States is to be ignored so blatantly in one part, what is to stop a president from ignoring all of it?
Tom Liberman