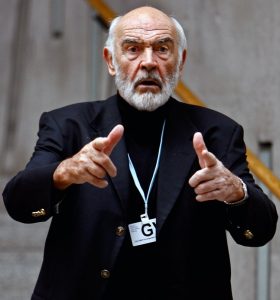 Sean Connery died earlier this week and while tributes poured in from many sources one of my social media friends brought my attention to his opinion on striking women. Connery felt it perfectly acceptable to hit a woman if she was being annoying. Sean Connery was 90 years old when he died and that means he grew up in the 1930s and 1940s. The general misogyny of the United States during this period is something people seem to have forgotten.
During that era the first women voted in the United States. Women didn't serve on juries in many states and Mississippi was the last to allow them to do so starting in 1968. The first woman elected as a judge in the United States didn't happen until 1920. I could go on but I won't. When Sean Connery was a boy, women were largely second-class citizens, beholden to their husbands, commanded by religion to obey, with fewer legal rights than men.
This is the era of Sean Connery and when he said it was perfectly acceptable to hit a woman if she was being annoying, he was speaking for the majority. I don't write this to absolve him of blame for this misogynistic opinion, I write it to showcase how little removed we are from such a world. It seems to me women in the United States largely forget their gender was, until relatively recently, not considered legally competent to make their own decisions in life. They were barred from everyday practices men enjoy.
This casual and systemic misogyny has a number of sources, not least of which are religious texts regarding adultery, rape, and other such decrees. I'm an Atheist because I am convinced there is no creator deity but I despise religious doctrine in no small part in regards to its views about women. I don't want to go too far in that tangent so I'll get back to my point.
The normal, systemic, acceptable view of women being nothing more than chattel for men is not as far removed as you might delude yourself into thinking. Search through your social media with due diligence and you will find plenty of people who imagine women must be subservient to men, they must be modest, they must follow religious laws, they must bow, they must whimper, they must beg, they must trust men to make decisions for them. Sean Connery is dead but his world is not gone, it lurks, waiting, hoping for a return.
Stand on guard, my friends, do not forget. An individual must decide the path of her life. Those that wish to control, to degrade, to inflict violence and enforce their will, they are the enemy.
Tom Liberman