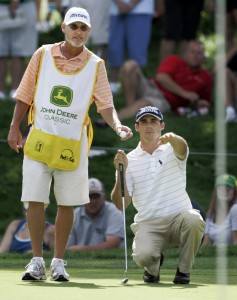 I just finished reading a story about how the caddies on the Professional Golfer's Association (PGA) tour are suing the PGA because they are forced to wear sponsor's logos on their bibs and are not compensated for it.
The idea is that each PGA tour event has a corporate sponsor and that company pays the PGA a fairly hefty sum of money in order to have exclusive naming rights. The PGA collects an estimated $50 million in such funds each year. For this payment the company in question gets to splash their logo and name over everything involved with the event and this includes the bibs that the caddies wear.
Sponsorship on the PGA is big money. A player sponsored by a particular company gets paid for every second they are on television wearing that business's brand on their apparel. The caddies are essentially walking billboards for whatever company paid exclusive naming rights that week and they think they deserve some of the money. I agree.
If the caddies wear the sponsor's branding and it is part of what the companies are paying, then the caddies clearly deserve part of the money. It's a shame that something reasonable couldn't be worked out by both parties although it's not too late for such an agreement. Sometimes it takes a lawsuit to get dialog started.
There are a number of ways this could go. The caddies might get some money. The tour might simply tell the caddies not to wear the logo on the bib anymore and the companies might pay less for sponsorship. The caddies might sell bib space to the highest bidder with the caddies for the better golfers earning more money.
I wouldn't mind seeing it make its way through the courts so we could get a definitive legal decision but I suspect it won't get that far.
What do you think? Are the caddies right or is the PGA tour?
Tom Liberman
Sword and Sorcery fantasy with a Libertarian Ideology
Current Release: The Black Sphere
Next Release: The Girl in Glass I: Apparition