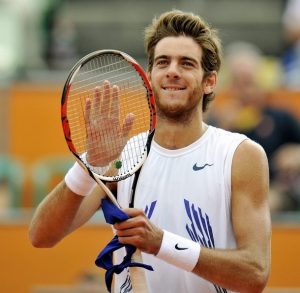 I was watching the Rafael Nadal versus Juan Martin del Potro tennis match in the Wimbledon Quarterfinals when it occurred to be just how good is del Potro, this despite the fact he is not the best. I started to consider the life of the people who are exceptionally good at their chosen profession but are not the best. It's not so bad.
Del Potro has never been ranked higher than fourth in the world of professional tennis. He won the 2009 U.S. Open but that is his only victory in what are considered the Major events of tennis. He has defeated all the best players in the world from time to time but has a losing record against the three men considered the finest of his generation: Novak Djokovic, Roger Federer, Rafael Nadal (listed in alphabetic order to avoid anyone chastising me).
Del Potro is better at tennis than I will be at anything in my life. He is better at tennis than the vast majority of people will be at anything they attempt. He works harder at his craft than I have ever worked at anything in my life. He works harder than most people. For all his efforts he is not even a consideration when ranking the best tennis players of all-time or even of this generation.
Despite not being able to attain the pinnacle of his profession he has managed to earn over $21 million in prize money and certainly a substantial amount in endorsements.
What separates del Potro from those who are considered the greatest? It's impossible to say. His mental toughness, not quite enough accuracy, his physical conditioning, his strength? There are no answers here. The difference between del Potro and those considered the greatest is so small as to be undetectable, but it is there nonetheless. This means he will never be spoken of in the same terms as those others. This is reality.
Throughout the history of sport people like del Potro have always existed. Players of such tremendous skill and ability that bench warmers like myself can never truly understand exactly how good they are at their chosen profession. Even if they are not the best.
This is where I delve into philosophy. Is that so bad for del Potro? Maybe not being under the same microscope the greatest must face is in some sense its own reward. He has achieved great and wonderful things for which he should be immensely proud.
There's nothing wrong with wanting to be the best. I want to be the best writer in the world. It's virtually certain I will never be so. That's ok, I'm of the opinion the attempt is of vital importance to happiness. Success is wonderful. Failure is painful. Happiness is the goal.
I'm willing to guess in many, if not all, ways del Potro is just as happy as the other, better, tennis players. Good for him. In the end no one keeps score. You're dead. How much did you enjoy yourself whilst alive?
Tom Liberman