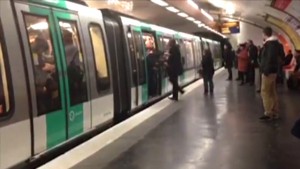 There's a fairly big story making the news in the Barclays Premier League this week. After a game between Chelsea and the French Paris St. Germain club fans from Chelsea refused to allow a black French-Mauritian man to board the train while making racist chants. The man wasn't a football (soccer for my U.S. friends) fan at all but happened to be boarding the train heading home at that moment.
Officials for Chelsea immediately stepped up by condemning the fans, giving out lifetime ticket bans against fans identified in the video, and inviting the victim of the incident to come to a game and experience "true" Chelsea spirit.
I think we can all agree that the football club is not responsible for the actions of all of its fans. If a Chelsea fan raped a woman or murdered someone it's not the club's responsibility to apologize for such an attack. This situation is somewhat different in that it was a group of Chelsea supporters riding public transportation after a game which involved the club. They wore Chelsea gear in support of the team and identified themselves as both proud Chelsea fans and proud racists in their chants.
Even with that said I'm still of the opinion that Chelsea has no real responsibility or obligation in the matter. If they don't want to apologize, issue ticket bans, or offer seats for their game I'd say they were well within their rights. I do think Chelsea's stance is admirable. They are not hiding behind the reasonable excuse that their fans are not in any way their responsibility but are willing to stand up and condemn the attack. They are making clear and bold statements to their supporters.
Some might argue that this is merely propaganda by the club to get good publicity but I don't see that. I see genuine anger at the incident and I can sympathize. I'm a Libertarian and I'm not responsible for all Libertarians or those who claim to be Libertarians. However when I see a supposed fellow Libertarian espousing nonsensical conspiracy theories about the terror attacks on September 11th or claiming that the vile Sandy Hook murders were somehow a hoax I do feel a responsibility to stand up and denounce that person.
As a Libertarian I have voluntarily identified myself with a group of people. When a member or members of that group of people behaves in a disgusting fashion I do think it's my responsibility to say something. It is certain that I cannot control their behavior. Likewise I can say unequivocally that they and they alone are the responsible party. Just as I can say that the Chelsea football club bears no responsibility for the racist nonsense a few of their fans espouse.
I think the club stepping up and doing what they are doing is entirely appropriate. It is leadership by example. The racist fans are not their responsibility nor was the incident their fault in any way. The fans themselves are solely responsible but the fact that a good person is not guilty of wrong-doing doesn't mean that person should stand by silently either.
Good for Chelsea. I hope the victim of the racism accepts their offering, attends a game, becomes a fan, and that much good can come from this incident. That would be a win.
Do you think officials of the Chelsea club should apologize or do you think it's not their fault or their responsibility?
Tom Liberman
Sword and Sorcery fantasy with a Libertarian Ideology
Current Release: The Black Sphere
Next Release: The Girl in Glass I: Apparition