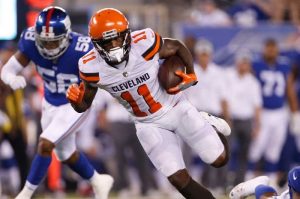 There's an interesting story making the rounds about a Cleveland Browns player named Antonio Callaway and his coach, Hue Jackson. Callaway was stopped for a traffic violation and marijuana was found in his car. Jackson decided that Callaway's punishment should be to play almost every offensive snap in the preseason game against the New York Giants. Many people are questioning this method of punishment.
I won't keep you in suspense as to my opinion on the subject, it's Jackson's team to run as he sees fit. If he thinks it's an appropriate punishment then it's his call to make. That won't stop me from suggesting it seems like a very bad idea from a misguided coach.
Callaway ended up playing 57 of the 63 offensive plays Cleveland ran in the game and was exhausted and asking to be removed at several points. He was refused. This seems to me to put Callaway in physical danger. A player who is tired is not running plays properly which is clearly demonstrated in this age of specialization. Players are rotated in and out at a far greater rate than in previous decades.
It also seems very unusual to punish a rookie player by giving him more repetition at his position. There are certainly other wideouts on the Browns hoping to make the team and each of them was denied chances to impress because Callaway stayed in the game.
All this is certainly true but my original assessment stands. It's Jackson's team to run as he sees fit. What's important to consider is if his methods are working. His record as head coach of the Browns is an astonishing 1-29 over the course of two seasons. He accumulated an 8-8 record in one season as head coach of the Oakland Raiders before he was fired there.
Perhaps his methods are wise and will be part of a turnaround for the Browns and they will become a playoff team. Perhaps this punishment is indicative of a coach flailing away for solutions, a coach who doesn't know what he is doing or why and his abysmal record will continue.
We just don't know but we'll certainly find out. I think Jackson was wrong in his methods and so do some other people. It's quite possible I'll be incorrect in this judgment, because that's all it is, an opinion based on the evidence.
I won't be personally insulted if the Browns start winning games and Jackson turns out to be an excellent head coach. I won't defend my position to the death. I'll shrug my shoulders and say I judged the evidence that was available to me and came to a conclusion which turned out to be wrong. Best of luck.
Tom Liberman