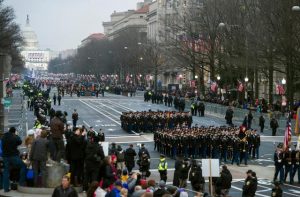 There's an interesting story in the news about plans, or lack thereof, for a military parade in Washington D.C. The parade was on but then it was off again. I wasn't that interested in the story until I read the sequence of events that led to President Trump announcing the parade was cancelled, not that I think it is permanently cancelled, the president is a man of mercurial whim and anything can change. That being said, I think this incident gives us some insight into the nature of his administration. Lack of planning.
Trump wanted to have a military parade ever since he saw the Bastille Day celebration in France back in July of 2017 and has been credibly reported as saying he wanted something similar in Washington D.C. He's been talking about this idea with various members of the Armed Services and others for over a year now. Apparently, his insistence finally started some action but this is what I want to discuss.
If you speak with the women and men charged with planning any sort of a parade, even a kindergarten march through the school, they will explain to you the necessity of making plans. Lots can go wrong in such events and a military parade through downtown Washington D.C. is something that I hope anyone, regardless of political affiliation realizes, is a complex affair. There is much organization and coordination between various groups required.
City officials were notified on August 8, 2018 to be aware planning for a parade was under way and they would be involved. The letter from Homeland Security listed one detail and that one being vague, it would happen on or around November 10, 2018. The announcement the parade was cancelled because of cost came on Aug 17, 2018. That's eleven entire days. Which is hardly enough time to make a proper estimate, but it gets much worse.
The city didn't receive any other information about the parade until Aug 14, 2018. Even then officials were not told how long the parade would last, how many people were involved, what route was planned, what military equipment was involved, or apparently much of anything. They were then asked to estimate the cost to the city!
It's hard for me to put into words how idiotic is this request. How can anyone make an approximation without at least some information? The data given to them made it impossible to make an estimate. City officials then threw out a number, a mistake if you ask me, of $21.6 million. I'm guessing they looked at expenses for other such events with extra pay for police, fire, and emergency services, cleanup costs, etc. Still, they should have just told the White House they had no idea and needed more information before any sort of an estimate could be offered.
The Pentagon has apparently long resisted this parade and someone began throwing out numbers with one being $92 million. General Mattis, who would supposedly be in a position to know about the plans, in an overt admission said that no one had any idea how much the parade would cost and any estimates should be discounted. Mattis at least had the courage to admit no one planned a damn thing and it was impossible to guess the cost. Maybe he hoped no one would comment on the incredibly stupidity of the entire organizational failure. Wrong. General Mattis, you bear some responsibility for this nonsense.
The worst part about all of this is that it seems like standard operating procedure for this administration. If you support it, please take note of how lack of planning is a sure-fire recipe for disaster. From tariffs, to immigration, to travel bans, the entire administration simply fires on the whim of the president. Maybe you like that, maybe you support that, but don't come complaining to me when things go horribly awry. Without plans, as even the most ardent support of the president knows in their heart, chances are things will spiral into disaster.
Tom Liberman