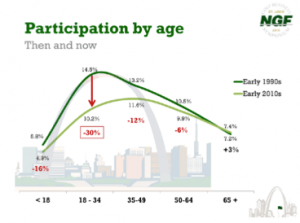 The year was 2006 and Tiger Woods won The Open Championship, the PGA Championship, and six other events. The game of golf had 30 million regular players. Courses both public and private were being opened and designed all over the country. The world was bullish on golf and apparently rightly so.
Since then the total number of players has dropped by more than five million despite the population rising. More golf courses are closing than opening and only a small number of highly exclusive courses are even in the planning stages anymore.
What happened? It's a complex question and there are many factors involved; including lack of star power, economics, and the time and difficulty required to play. What I'd like to focus on is the nature of economics. If golf was banking or car manufacturing there would be panic in Washington D.C. and in statehouses across the country. How can we save golf? It employs so many people. It provides an entertainment outlet for many more. We can't let it fail.
A once thriving industry is struggling badly. People just don't want to play anymore, for whatever reason. That's the nature of economics and capitalism. The fact courses are closing all over and the government isn't intervening is exactly how it should work. If a golf course cannot generate enough revenue to stay open, it should close. This means economic hardship for the employees. It means I have fewer options when I want to play a round.
What will be the result? The golf industry is coming up with innovate ways to solve the problem. There is talk of six hole courses. Courses with bigger holes to make playing a round easier. There are many ideas being discussed and implemented. Perhaps some of them will work and a new generation of golfers will once again fill courses, or perhaps it will go the way of the horse and buggy. I don't know. I can't know. No one knows. That's the nature of this world.
What government often tries to do is alleviate this uncertainty. It is not merely economics. It is lives. When the golf industry falters, any number of people are affected in a negative way. Government tries to assure people it will be fine. They will prop up the golf industry so no one loses their job. So there is always a place to play. It's a reassuring thought. Gosh, it'll be great. We'll never have to worry about the course closing. I'll always have a job and be able to pay for the food on my children's table. Thanks, government.
The problem is that it doesn't work. When the government attempts to prop up a failing business or industry they are merely delaying the inevitable. When a business fails through natural capitalistic forces, it does so in a way that allows for it to be replaced. If people are not playing golf, they are doing something else. In this other thing there are jobs, there is security.
I think it's important to consider where we would be today if the government hadn't intervened in the Global Financial Crisis of 2015. Many of the car dealerships and the ancillary suppliers would have had a hard time, but now we'd have vigorous young companies established in their place. The industry would have been reborn, people need cars, that is not going away. Perhaps in the innovative storm that followed the demise of the industry we'd have fully automatic cars by now.
It is clear to me if those banks that made foolish loans had simply been allowed to go bankrupt, others would have risen in their place. And the new ones would probably not have charged me nearly as much to simply withdraw my money from my own accounts.
It is important to remember one vital fact. While failure is a disaster for one person, it is opportunity for a dozen more. It eliminates the bad and allows for new ideas to enter the market. These new companies are agile, vigorous, and provide a service wanted by the people. This is why capitalism, largely unfettered, is such a good thing for all of us.
The decline of golf is an important lesson in economics.
Tom Liberman