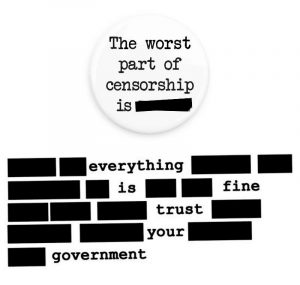 The Congress of the United States is haranguing the CEOs of the top technology companies in an effort to justify the tech censorship itch of every politician. The very idea of government choosing what citizens get to read should hopefully make your skin crawl as much as mine. Tech censorship is a bad idea, read on and I'll tell you why I think so.
Basically, the internet is filled with a bunch of crazy stuff. Go figure. Some idiots choose to believe this nonsense, again, go figure. Because some people are really stupid, the government has decided that I must be protected and the way to do this is to enforce tech censorship. Now, the government has any number of methods by which they can control content, including limited liability laws, which I railed against elsewhere. I'm not going to get into why limited government is vital but I want to focus on the inherent problems with tech censorship.
I think it's pretty easy to make my case when we simply examine the words of the politicians as they verbally assaulted the CEOs. The tech companies have "too much power." That's a rich one coming from politicians who have brutalized the Constitution of the United States, designed largely to limit government power, into a scrap of tissue paper. It is clear politicians don't want anyone else to have too much power, they find the thought frightening.
The tech companies are accused of, in the same breath, spreading fake news and censoring political speech. Well, when political speech is fake news, it seems irrefutable that we've got a Catch 22 on our hands. The proverbial police officer telling a suspect to freeze and raise her or his hands. Tech companies can't defeat this line of questioning, which is exactly the point. There is nothing the tech companies can do to stop the spread of false information without also censoring political speech. The result of this is that whatever political party happens to be in power can, for all practical purposes, dictate what is "political speech" and what is "fake news". Do you want politicians making that decision? I don't.
The answer isn't giving censorship power to government, the answer is to stop trying to censor at all, you can't win. The politicians are hoping to trap tech companies by forcing them to censor fake news while calling them out for censoring political speech. The politicians want more power, they want the power to control what you read, what you see. The politicians will stop at nothing to get this power. They are the evil in this situation.
We must dispense with the idea of censorship altogether; despite the fact some people will post vile lies in an attempt to incite violence. We cannot trust government to keep us safe, we must trust ourselves, we must be personally responsible.
Government's idea of safety is to put us in a dark cave with a plate of food and a bowl of water and then harangue us when we fail to lick its boot and thank it for doing so.
Tom Liberman