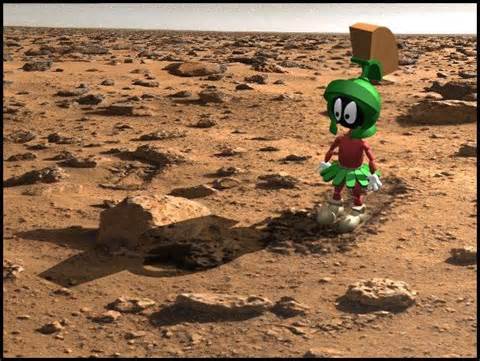 There is another aliens on Mars story making the rounds and I wanted to examine it very quickly. I've spoken about this sort of nonsense before but there are two instructive things about this article that caught my attention.
This story is in the Examiner and therefore is pretty easily dismissed, as that sort of news outlet often posts silliness. What I find interesting about this story is that the headline talks about "hard evidence" and the person who wrote the story has a financial stake in people believing in aliens. Both of these things are big red flags when reading a story and I thought, because they are so obvious here, that I'd talk about a little practice you can use when reading or watching the new.
Many news stories from more reputable sources than the Examiner also violate these rules and getting used to spotting things of this nature will keep you from falling prey to the deception.
When a story uses a term like "hard evidence" or any other absolute sort of declaration; be aware. The world is generally a rather gray and muddled place. Political ideologies are not all good or all bad. Just like your crazy Uncle Lou and your sweet Aunt Mary are not all good or all bad. Whenever I read an article that declares absolutes when talking about debatable topics my nonsense radar immediately goes up. Often when I read a story like this from a source better than the Examiner such caution has served me well. When I note something of this nature I immediately start to look for corroborating stories in other places. Often this leads me to find out the original story is filled with misinformation.
When I got to the byline of the story I found the name Michael E. Salla, Ph.D. and it took me only a single search to learn that he has published a number of books and has an entirely made-up philosophy about "exopolitics". It deals with the idea that world governments are secretly managing the presence of aliens, a vast conspiracy as it were. He has a school, a website (built completely with tables and in desperate need of a WordPress migration), and clearly has a financial stake in people believing in aliens.
This is a huge red flag. When someone writing or reporting on a story has a financial stake in the message being delivered it is highly likely that the message itself is corrupted and probably filled with deceitful information.
That's the lesson. When you read or watch a story on the news take a few moments to think about the terms being used and the people delivering the story. Look more deeply into the matter, particularly if the ideas are ones with which you are sympathetic.
At some point we have to stop blaming "the media" for "fooling" people and take personally responsibility for allowing ourselves to be fooled. If you are convinced that all Liberals are being fooled by CNN or all Conservatives are being fooled by FOX then it is likely you are the one being foolish.
Tom Liberman
Sword and Sorcery fantasy with a Libertarian Ideology
Current Release: The Broken Throne
Next Release: The Black Sphere