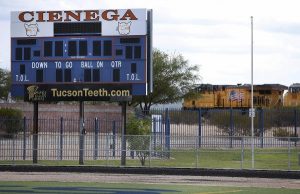 There's an interesting story in the news about a travel company called Senior Grad Trips and various high schools including Cienega High in Tucson, Arizona. Basically, a company called Senior Grad Trips organizes high school senior trips to a variety of locations. They take the money and then apparently don't deliver the trips. I don't know all the details so I'm going to have to do some speculating but the basic idea is that stealing big is easy if you've got good legal advice.
The line from the story that really resonates with me comes from the mother of the one of the students from Cienega who had her money stolen, I could go to a grocery store and shoplift, and I would be put in jail that night. This man stole, and it's taken more than a year for someone to say, 'We'll do something.' What does it take for someone to care? Ronda Dillon made the comment after spending the last year trying to recoup the money her daughter and friends spent for the trip. So far to no avail.
Here's what I'm guessing is the issue. Senior Grad Trips created their company with fraud in mind. The owners wanted to take money from various students, then use the profits on a party life. They had the contracts written with that in mind. They engaged in advertising designed to deceive. They covered their legal bases and there is little recourse against thieves of this nature. That's why no one has been able to do anything as of yet.
Dillon is correct when she claims if she did some minor shoplifting she'd be charged and fined almost immediately. Our law enforcement agents are almost universally focused on petty crime while those who steal on a grander scale simply get away with it, smiling and nodding to our legal system all the while.
Deceptive contracts are the norm, not something unusual. Every contract you sign is designed with the idea of legally getting away with as much as possible. From your phone to your television viewing. Does anyone even dispute this?
Laws have been passed in recent years making it easier for a business to declare bankruptcy while individuals find it much more difficult. I wouldn't be at all surprised, should there be an eventual resolution to this issue, if the students never get their money back and the owners of the Senior Grad Trips simply go on about their way, probably starting up some new scam.
That's where we are. Practicing to deceive is not even fraud any more. It's just a perfectly legal way to steal your money.
Tom Liberman