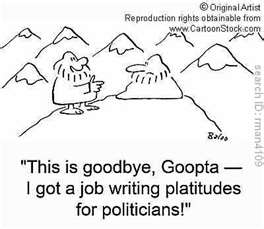 Today I take on not a single dumb platitude but the concepts of the book and movie, The Secret, which takes much of its philosophy from the biblical quote: "And all things, whatsoever ye shall ask in prayer, believing, ye shall receive."
The idea being that if you believe something to be true hard enough you can make it true, particularly by praying for it. What's interesting about this philosophical idea is that it actually has some pretty firm roots and there are ideas here that are quite worthwhile. But, on the whole it is a dangerously delusional idea to promulgate.
The platitude that I'll choose from the book/movie, which in all fairness I've only read summaries, is the one used on Wikipedia:
"One of the most powerful uses of gratitude can be incorporated in the Creative Process to turbo-charge what you want"
This is one of the main tenants of the Laws of Attraction that are the fundamental backbone of the philosophy. This Laws of Attraction essentially state that our thoughts can change the physical state of the world around us and much of this philosophy comes from books written by Thomas Troward.
First, I want to talk about where this idea has a lot of merit and then I'll move on to why it is incredibly dangerous. Positive thinking is a great idea. Confidence is good. When I played a lot of golf the last thing I wanted to think before I began my swing was "Don't hit it in the water". Much better was "Hit it in the Fairway". So, the power of thought on our physical actions is, in my opinion, unquestionable. When we do something with confidence the chances are better that we will carry the action through to success than when we move with hesitation.
The physical manifestation of this idea is expressed in the platitude, "Put your head down". The idea here is to charge forward with confidence rather than with hesitation and, again, this has merit. I really like the concepts of positive thought. Before you try something look at yourself in the mirror and say, "I can do it." Put your fears away and attack the issue. This is all good and I approve completely.
The idea that things are going to work out helps you become more confident and that confidence in turn leads to actual success. I know, I know, it seems like I'm a proponent of The Secret and the concepts it promulgates. But, here's where things take a turn to the very bad.
It's dangerous to tell people that all they have to do is think their way to success. You can't just put your head down and jump the Grand Canyon. You'll die. You can't just tell yourself you're going to get rich and then get rich. You have to have a plan of action that is based on the real and tangible world. You can't expect tens of thousands of people to purchase your novels if you don't write them, publish them, and promote them.
This is where I have the big problem. The movie/book promotes the idea that thought and prayer are the mode to achieve whatever you want in life. This is false.
The way to succeed in life is to critically analyze the situation, come up with an objective plan to achieve the goal, and physically carry out that strategy. Even then, success is not guaranteed, happiness is not guaranteed. Hard work is mandatory!
I'll make no secret about it. The primary reason I'm writing this blog is to bring attention to my novels to promote sales. If people learn about Libertarianism, Ayn Rand, Objective Thinking, and other concepts that I think are valuable then so be it. But, I'll tell you this much, I'm not going to get sales by thinking my books will sell or praying they will sell.
So, get out there, think positively, be confident, make a realistic plan, objectively analyze each roadblock as it arises, act on the plan, persevere through obstacles, and find success and happiness! That is the real Secret!
Like, Tweet, Comment, Share, Pinterest, Digg, Stumble and all the rest using the buttons at the under the post!
Tom Liberman
Sword and Sorcery fantasy with a Libertarian Twist