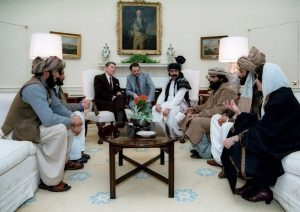 The Taliban of Afghanistan are in the news once again it gives me the opportunity to, once again, beg my fellow citizens to adopt a Libertarian stance toward involving ourselves in foreign conflicts. You see, my devoted readers, the Taliban was founded by Freedom Fighting Mujahedeen warriors largely assembled, funded, and trained by your tax dollars. A sordid tale that is, sadly, nothing more than a repeated refrain throughout the modern history of our nation.
The Soviet Union invaded Afghanistan way back in 1978 and we've been heavily involved in the situation ever since. President Carter boycotted the 1980 Moscow Olympics, President Reagan funded and trained the Freedom Fighting Mujahedeen who coalesced into the Taliban after the Soviet Union was evicted. That's the picture you're looking at above.
President George W. Bush and United States invaded Afghanistan in 2001 in the oxymoronically named Operation Enduring Freedom. If by Enduring Freedom you mean creating an endless conflict that costs countless lives and brings limitless suffering to all parties involved then I suppose it's not an oxymoron. Otherwise ….
Now the Russians are using the Freedom Fighting Taliban to hasten the eviction the United States after our failed occupation. We're already in full retreat, make no mistake about that, as I wrote about another time. I've written about other failures of U.S. policy in this regard. Our abandonment of the Kurds, the creation of the Mexican Narcotic cartels, the overthrow of the legitimately elected Iranian government.
I humbly beseech you; friends, Romans, countrymen. Avoid foreign entanglements. The evidence is overwhelming. It leads to death. It leads to misery. It leads to pain. Stop bombing people with remote control toys. Stop trying to convince me to give up other people's lives to ensure my own freedom when all you do is endanger me more. Stop! Just stop, please.
Every time a politician tries to scare you with threats about how dangerous is this group or that group, domestic or foreign, just give them a swift kick in the hind quarters, and by that, I mean don't vote for that person. You control this country with your vote.
When you read about Russia and the Taliban just remember who created the Taliban and why.
Just give the Libertarians a chance. This is your chance, this is our chance, take it.
Tom Liberman