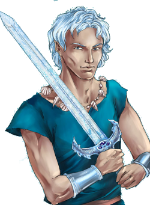 I've updated the page to my fourth Sword and Sorcery novel, The Sword of Water. I've really been thinking about the book more than actually writing at this point and I've only got about 10,000 words down at this point. But, things have really come together in my mind enough that I thought I could update the page with information that might be of interest to my fans.
The novel marks the return of Jon Gray and Sorus Nightwalk from their adventures in The Staff of Sakatha. About a year has passed and they two are on the trail of yet another relic of the Old Empire. There is a Sample Chapter available but it is from the rough draft so hold the comments on typos, spelling, and grammar errors! 🙂
I hope those few who enjoy my books are happy to see that work progresses on the next installment!
Tom Liberman
Sword and Sorcery fantasy with a Libertarian Twist
New Release: The Hammer of Fire