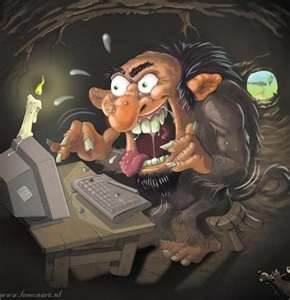 I've noticed an interesting trend in my news reading habits. I generally try not to click on and read stories that are of a more puerile interest and stick with science, sports, substantive politics, and the like. The reason I do this is because clicking on a link drives that story's popularity. The more clicks, the more interest and the news organization moves the story up the list. It's largely a myth that the news outlets force-feed us stories we don't care about. They are driven by advertising dollars and more clicks equals more money.
But, that's not the real reason I'm blogging today. I've noticed that the comments section of stories have become of great interest to me for a couple of reasons. One reason is that they are amusing. Another is that it sort of gives me a feeling for how people interpret the story which is a mini-version of polling. I must also admit that I get a perverse joy out of reading particularly stupid comments but, that being said, I do also enjoy thoughtful responses.
There are several interesting dynamics at work in the comments section. One is the phenomenon of trolling. Simply put this is someone going to a particular story or shared discussion region and posting the most inflammatory comment possible. The idea is to provoke an emotional reaction. This in turn spawns a long series of attacks and counter-attacks which amuse the original troll (and me, sometimes).
Another dynamic is the person who genuinely cares about the topic in question and wants to post their own views either in support or against the original article or topic. This is a potentially powerful way of communicating with like-minded people and even convincing open-minded individuals of the validity or invalidity of a point.
Then there are the true-believers. Those who absolutely have faith in a particular point of view and want to post about how stupid the article is or the idiocy of anyone who believes differently.
What I find most fascinating, although not surprising, is that the middle group who want to have an earnest, thought-provoking discussion, are squeezed out. There are a number of efforts to counter this trend including forcing non-anonymous posting as we see in the St. Louis Today website. This does seem to cut down on the more egregious trolls but doesn't seem to have diminished milder trolling or the true-believers who are happy to expound on how anyone who disagrees with them is an idiot even if their real name is attached to the attack.
I'm not really sure I have a conclusion to this blog. It's just a fact. It's sad. I wish people would  not denigrate one another with baseless and mean-spirited attacks but I don't see an immediate solution.
I suppose it comes down to what it always does; teach children how to think critically. Teach them how to make an argument and avoid fallacies. Teach them civil discourse.
What do you think?
Tom Liberman
Sword and Sorcery fantasy with a Libertarian Twist