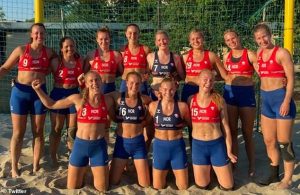 Mandatory Bikini Uniform
As difficult to believe as you might find it, the Norway beach handball team paid a fine of almost $1,800 for wearing shorts to their match instead of bikini bottoms. I mean, seriously? The European Handball Federation (EHF) stipulates women beach handball players must wear a uniform including bikini bottoms and sports bras.
Do we even need to ask the reason for this rule? It's not to ensure the safety of the competitors or the integrity of the game in case you thought as much. It's because men made the rules, creepy men if you want my thought on the subject.
Years long Dispute
The Norway beach handball team, along with other teams, protested through the proper channel for years. All to no avail. I'm sure they got the normal mealy-mouthed answers about a fact-finding efforts by top people but nothing changed.
Finally, fed up one imagines, the Norway beach handball team showed up at the European Beach Handball Championship bronze medal game against Spain wearing shorts. The horror. I mean, gosh, shorts instead of bikini bottoms for an athletic competition?
The Patriarchy
As I've mentioned before, I'm hardly easily triggered or a member of the Social Justice Warrior crowd. That being said, I do consider myself Woke and enlightened, I'm just not militant about it. This rule is so vile, so useless, so clearly sexist, that when I read the headline, I thought it must be some sort of a joke. Some crazy Woke story about an imagined injustice.
Nope. Wrong again, Tommy Boy. When do, what I assume are the men who make the rules at EHF, think they are living? How can they receive a protest about having to wear bikini bottoms instead of shorts and ignore it?
I have this image in my head of a bunch of sixty plus year old men leering at pictures of the young athletes and giving each other uncoordinated high-fives while tossing the formal protests into the trash bin, then sexually harassing the women in their office, before going home to their trophy wives.
I just barfed in my mouth a little and I hope you did also.
Conclusion
I stand with the Norway Beach Handball team. It's as simple as that.

Loading ...
Tom Liberman